Four favorite tips for green computing
In honor of Earth Day, Macworld's readers chime in with their favorite tips for going green with their Macs.
4. Reuse old equipment
The U.S. Environmental Protection Agency estimates that 29.9 million desktops and 12 million laptops were discarded in 2007—that's roughly 115,000 computers out with the trash each day. Similarly, the agency estimates 235 million units of electronic products are in storage—sitting unused in home closets, attics, or basements.
Many readers, such as nyalathotep, encouraged others not to let old equipment go to waste. First consider if friends or family might benefit from hand-me-downs or if there's a job for old Macs to do (see "Use an old Mac as a backup server"). It's surprisingly easy to sell old electronics on sites like Craigslist or eBay. Check out our stories about "Preparing an old Mac for sale" and how to "Preserve your Mac's resale value."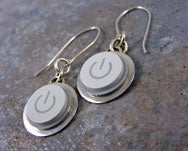 Some Etsy artists use parts from old Apple equipment to make jewelry and art. These earrings are from Stacey Peterson's KeyedUp shop.
On the flip side of that, others wrote in to say their golden rule was to buy used instead of new. "Don't grossly overbuy your machine," added reader bastion. "The difference in power consumption between a high-end mini (peak) and a low-end Mac Pro (idle) is truly staggering. It's not only green but it keeps money in your wallet, which for many people is far more compelling. My early 2009 mini has paid for itself in the form of lower electric bills compared to the G5 it replaced."
For more tips on recycling, donating, and even using Mac parts in craft projects, see "How to recycle your Mac" as well as Apple's own recycling programs for Macs and displays and for iPod and mobile phones.
Previous Page 1 2 3