In defense of old Mac software
Plenty of older software is good enough, smart enough, and gosh darn it, still works. A writer keeps his old tools sharp.
Most email software and mailing-list software sends a separately encoded text attachment that's either derived from the HTML text or can be customized. Can I tell you the number of times I've received a strange old text message that's apparently the not-updated portion of an HTML marketing email template? Many times.
Mailsmith over the years added better and better ways to open the HTML attachment in a browser. While that does display tracking images and has other risks, I view very few of the messages I receive as HTML. I like the simplicity and legibility of reading only text in a size and font I choose.
Over the years, I've tried a couple dozen mail clients, including several versions of Apple's Mail, and none of them gave me everything I wanted, including compactness of mailbox display and filtering options. Even the slow internal search engine can't be beat, because it has as lot of choice compared to Spotlight: You can restrict against which mailboxes you search, and, using an advanced query, concatenate a set of rules to match, which can include regular expression pattern matching.
Bare Bones deprecated Mailsmith as a commercial product years ago. Siegel spun it off as a side project that he keeps updating for compatibility, not features.
Apple Mail has finally matured to a point in my installations where it doesn't crash, corrupt mailboxes, or lose messages, and I use it for secondary accounts. I'll be ready to jump ship if the time comes, or if I wind up having to switch to an IMAP-only mail host.
Even the company that makes it admits it
I'm not alone in keeping the coals of Quicken 2007 for Mac alive; many of us huddle around its warmth. I used multiple iterations of Quicken from the early 2000s through the 2007-dated release, updating as often as new releases came out. Each release generally, but not always, improved on the previous one.
Then a long winter set in. Intuit, Quicken's maker, seemed incapable of managing all the versions of Quicken it was working on, and years passed with nothing but bug and compatibility fixes. Suddenly, a crisis loomed: OS X Lion (10.7) would drop support for PowerPC emulation, and only run native Intel apps. I prepared and then used a Snow Leopard virtual machine so I could continue to run Quicken 2007. Then, nine months after Lion's release, Intuit capitulated and produced an Intel update—for which owners had to pay $15.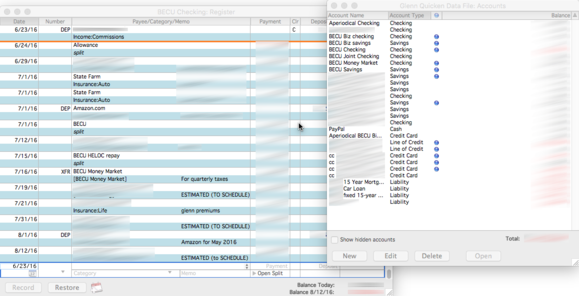 Quicken 2007 has a straightforward ledger for entry and review of transactions, and has extensive report customization. (Financial details blurred.)
Previous Page 1 2 3 4 5 Next Page