In defense of old Mac software
Plenty of older software is good enough, smart enough, and gosh darn it, still works. A writer keeps his old tools sharp.
While Intuit fiddled, I looked for alternatives that would preserve a several-year history of transactions and allow me to produce the custom reports I need for my small writing business, including a number that let me pull specific quarterly results for city and state taxes by including only certain accounts and breaking out categories. Nothing let me do all of that. Years passed; I grew gray; the sun wheeled in the heavens; and Quicken 2007 remains the same. Over time, some financial institutions updated their online download process so that I can't get automatic updates, including the credit union with which I and my family keep most of our account. Chase and American Express remain compatible for the moment.
Intuit now routinely produces compatibility updates for this elder version, even as it shipped the almost offensively inadequate Quicken Essentials a few years ago, and then the should-possibly-be-ashamed Quicken 2015 for Mac. Quicken 2015 was such a poor release compared to 2007 that even Intuit wasn't brazen enough to claim it was better: the firm published and updated a surprisingly honest comparison list among its Mac and Windows versions, including Quicken 2007.
Quicken 2016 looks a bit better in that list, but at a $65 upgrade price after having paid more than that for Quicken 2015, I'm not sold. I've tested Banktivity 5 ($60, formerly iBank), which may have the closest set of features I need, but it makes more sense to swap over at the beginning of a calendar year (my tax year), and I missed the window of opportunity for this year when I last tested late in 2015.
I wrote a review for another publication of Quicken 2015, and regularly receive queries from readers, who ask if I've used updates to 2015 (which Intuit has committed to through 2018) or the 2016 version, and if it's good enough now. I keep referring them to that Intuit checklist of features and say, not for me, not yet.
It's got a certain panache
The most obscure of my triumvirate is CSSEdit, last updated in 2010. It's a live-preview Cascading Style Sheet (CSS) editor, which is only meaningful if you're still coding or tweaking Web pages by hand or through modifiable templates, which I am.
While the makers, MacRabbit, released a more full-fledged Web-editing tool called Espresso—it went through a couple of iterations and was last revised in 2013—CSSEdit on its own did the trick for me better than anything else.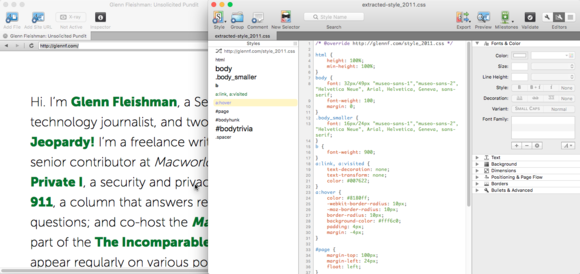 CSSEdit shows a live preview of a Web page that updates based on extracted or locally linked style sheets.
Previous Page 1 2 3 4 5 Next Page