Why is Asia increasingly embracing telemedicine?
And what does it take to enable the delivery of better clinical healthcare from a distance via technology such as video? Moninder Jain, head of Video Collaboration, Logitech Asia Pacific, shares his thoughts.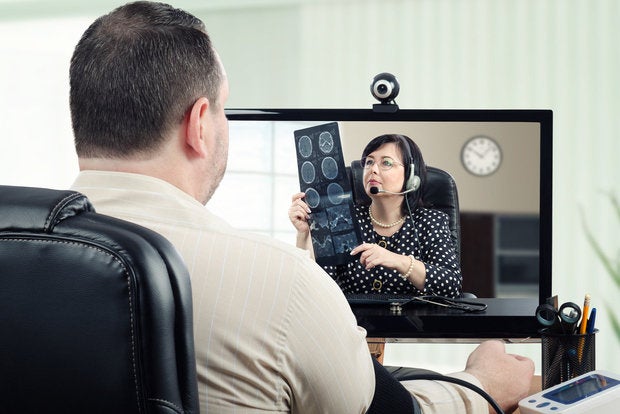 Credit: Thinkstock via Computerworld.com
Last December, research firm IDC reported that revenue from the enterprise videoconferencing equipment market in Asia Pacific increased by 7.3 percent year-over-year.
The healthcare industry could potentially fuel the expected growth in the videoconferencing equipment market as demand for telemedicine -- in which patients can consult physicians over video for immediate care -- is on the rise. Acccording to Frost & Sullivan, the telehealth market -- which includes telemedicine, remote patient monitoring and mobile health -- in Asia Pacific is expected to grow at a compount annual growth rate of 12 percent to reach US$1.79 billion in 2020.
Moninder Jain, head of Video Collaboration, Logitech Asia Pacific, talks about the motivators and enablers of telemedicine, as well as how he thinks telemedicine will impact healthcare and medical insurance firms in future.
Computerworld Singapore: The Integrated Health Information Systems (IHiS) launched a national video consultation platform in April, enabling patients to see doctors from public healthcare institutions in Singapore without leaving their homes. Aside from providing convenience to patients, what are the other benefits of such an initiative?
Moninder Jain: Telemedicine offers a host of benefits to both patients and healthcare providers that go beyond mere convenience.

According to the American Telemedicine Association, the top benefits include:
Improved access to medical experts and centres of excellence for patients regardless of their physical location, as medical professionals are able to reach patients beyond their local offices. Patients may be faced with mobility issues could be located overseas. This would make it difficult for them to make their way down to the waiting rooms of these professionals for a consult. In particular, this would benefit patients with chronic diseases, where the medical professional has an existing relationship with the patient. They would usually have to physically meet with the medical professional frequently to manage their condition, while being checked up on with equal, if not greater, frequency.

With moves from the government working towards shaping the nation to becoming a smart nation and in seeking to grow our position as a medical hub in Asia, telemedicine would be a step forward in both those aspects.


Greater patient satisfaction and improved recovery time. As mentioned, telemedicine makes it possible for medical professionals to check in with patients frequently. This would be helpful in ensuring compliance with medications, certain therapies or other treatments. This frequent contact can reduce unnecessary hospital readmissions and even improve recovery times.

The care that telemedicine affords its patients can be further enhanced by pairing smart devices such as blood sugar monitors. This allows the medical professionals to receive a remote notification when a patient may need to be contacted, then proactively reach out to the patient in a timely manner.


Cost efficiencies for both patients and the healthcare providers.
The availability of the medical professional over a high-quality video call would lead to greater cost efficiencies and provides the potential to expand avenues of income for the healthcare sector as a nation.

Patients could do with fewer or shorter hospital stays upon the implementation of telemedicine to their mix of healthcare options, this frees up bed space in the healthcare facilities for a patient who might require closer supervision. This allows resources to be allocated efficiently, which allows for better healthcare for each patient across the board -- those who are able to access medical consultations via telemedicine will get the care that they need, and those who require inpatient care are given a better chance of getting a bed in the hospital. This improved quality of patient care will thus lead to better patient outcomes.

Telemedicine also affords the option of shared health professional staffing, which will do its part in helping to ease the labour crunch in the healthcare sector. The reduced travel time for all mobile staff would allow them to see more patients as well. Transport costs can also be reduced as patients who require special transport arrangements for attend a routine check could be required to go down to the medical facility less often.

Furthermore, the expansion of Singapore as a medical hub in Asia can be supported by the advent of telemedicine, with the expertise of renowned medical professionals being shared across the region, or even the world, via video conferencing. This would also serve to drive a significant part of the local economy.
Despite its many benefits, what are some of the top challenges of telehealth?
In most cases, the benefits of telemedicine far outweigh the challenges. That said, access to (end-to-end) reliable, high-speed broadband networks is critical for telemedicine to be effective, which could prove challenging in less developed areas of the world.

Of course, with the digitisation of medical consult, many would be concerned with the security of personal data. In many countries, there are still significant regulatory hurdles to telemedicine including the lack of standards for payment, and questions about whether doctors are licensed to provide medical care in different states or countries.

With the increasing accessibility of information and information-sharing, concerns of confidentiality in telemedicine care and the discretion exercised by healthcare providers in protecting patient data have risen to the forefront - and rightly so. But improvements in encryption technology and the development of standards in care for telemedicine will soon provide patients of telemedicine greater peace of mind.

Additionally, there are technological integration challenges that come with services that supplement the healthcare industry. Infrastructure and scheduling would have to be reworked to accommodate and facilitate telemedicine in existing healthcare facilities.

Some are concerned that drastic changes will be made to the way healthcare facilities operate. However, as telemedicine is being used for non-urgent care, the changes required would not be too invasive.
How should healthcare institutions overcome those obstacles?
High-speed broadband has become more accessible than ever before, with a local high-speed internet penetration rate of 94.3 percent. This makes Singapore a good testbed for telemedicine. Coupled with the government's strong push in turning Singapore into a smart nation, healthcare institutions would be greatly incentivised to find innovative solutions to obstacles in connectivity.

With security as one of the major concerns of telemedicine, many telecommunication software providers have increasingly been exploring encryption options to protect their users from potential information exposure. Healthcare institutions should also continue to work with regulatory agencies and legislative bodies to enact and improve upon standards in telemedicine and impose guidelines on telemedicine providers.

Healthcare providers can also adopt telemedicine on a trial basis for a start. This would allow them to ease into the provision of telemedicine on a larger scale and work out the teething problems that could arise from it. As with every other adaption to new ideas, time is all it takes for things to catch on and be integrated into the way we do things.
How do you foresee the healthcare and medical insurance providers changing due to video?
The inclusion of quality video conferencing in telemedicine will allow medical professionals to provide a corresponding greater quality to patients in need.

One example is telestroke. When a person has a stroke, there is a very short time frame (three hours) during which the drug tPA can be administered, which in many cases completely reverses the effect of a stroke.

In order to properly diagnose a stroke, the physician - usually a neurologist - must complete a specific assessment, and this assessment can easily be performed via video. This timely diagnosis and drug administration could mean the difference between a full recovery and struggling with the lifelong effects of a stroke, or even between life and death.

Even in the case of day-to-day treatment, telemedicine shows great potential in reducing the effects of various concerns in our local healthcare system, which would typically lead to better outcomes for both the patient and healthcare provider. As such, it would be safe to say that it is in the best interest of all parties involved to accommodate video conferencing in telemedicine treatment.

Medical insurance providers have been confronted with finding new ways to go about processing telemedicine services. In view of the digital disruption in healthcare, insurance companies have begun to embrace the financial value of including telemedicine in their host of offerings and are working toward solutions and standards that include telemedicine when crafting policy coverage.

The increasing levels of adoption of telemedicine around the world will eventually force the insurance industry to embrace the digital disruption that it has avoided for so long.