2016 in review: The year in Android
Virtual reality, Google's Pixel phones, exploding Note7s, and everything else that made 2016 a year to remember.
Android Wear 2.0 was promising at Google's I/O conference, but it's since been delayed until next year.
But our watches will have to wait a little longer before they get any smarter. After the third beta release in late September, Google announced that Android Wear 2.0 wouldn't be released until early next year, a move that capped a rather bland year for wearables. LG, Lenovo, and Huawei neglected to release much in the way of new wrist hardware, while Motorola announced it was rethinking its entire smartwatch strategy. In fact the only real movement on the Android Wear front came in the form of me-too moves from traditional manufacturers such as Michael Kors, Nixon, and Fossil. But with Android smartwatches struggling to make much of a dent in the landscape anyway, maybe a little extra time will do everyone some good.
Google joins the VR party with Daydream
Even without a new crop of smartwatches, people everywhere were strapping high-priced gadgets to their bodies—but on their heads, not their wrists. In 2016, headsets were far and away the coolest wearable on the block, and everyone wanted to get in on the act.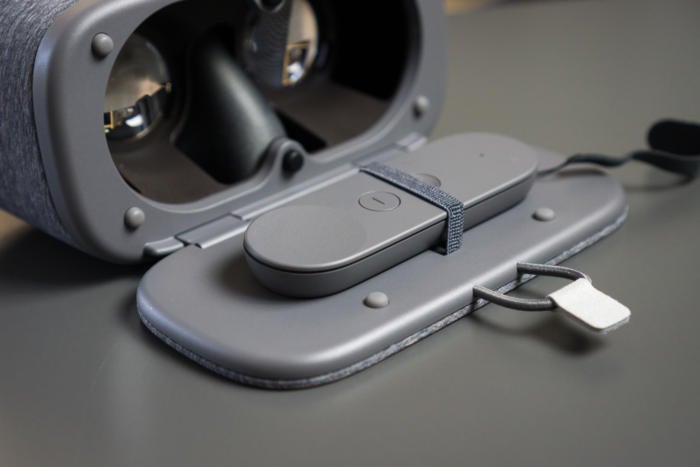 Google's Daydream VR was a massive upgrade from its Cardboard viewer.
Ever the trendsetter, Samsung got the ball rolling some time ago with its Gear VR, an Oculus-powered headset compatible with its top-end Galaxy phones. Not to be outdone, this year HTC began selling the consumer version of its Steam VR-powered Vive, a high-end virtual reality experience that requires a pretty powerful PC, not a phone. And the Oculus Rift PC headset finally landed on store shelves.
Google blew the Velcro off the original Cardboard VR viewer player with Daydream, a fabric-wrapped, somewhat fashionable headset that put a premium on comfort. Google's answer to Gear VR, Daydream is a standard that supports multiple phones and one-ups Samsung's offering with a motion-tracked controller. The platform is still finding its feet—as the library of apps (or lack thereof) will attest—but VR looks to be the real deal.
Android Auto for everyone
We still haven't gotten the native Waze app support that Google teased at I/O, but Android Auto is hardly spinning its wheels. A bevy of 2017 models have signed on to offer support—among them the Subaru Impreza, Dodge Charger and Challenger, and every new vehicle made by Ford—and Nougat quietly expanded the connected car concept from the entertainment system to the cockpit, giving car manufacturers the ability to create full Android-powered automobiles.
Previous Page 1 2 3 4 5 6 Next Page