5 enterprise technologies that will shake things up in 2017
Triple A security, the Internet of Things and AR/VR to make their marks
Cisco promises many new security-related applications will be layered onto Tetration.
Then we have IBM's Watson supercomputer, which is being unleashed in corporate networks to analyze traffic in search of malware, but also learning at the same time via its own experiences and by taking in white papers, threat intelligence and news about cybercrime. So over time, Watson will develop new strategies for finding attacks as they unfold. The Watson for Cybersecurity project is in beta now and likely sometime in 2017 could become a full-fledged cybersecurity service.
Separately, there is governmental research underway that could impact the cybersecurity world this year as well. For example, Intelligence Advanced Research Projects Activity, the radical research arm of the of the Office of the Director of National Intelligence, wants to build a system of what it calls sensors that can monitor everything from search terms to social media output to look for early warning signs of cyberattacks.
"Cyber-attacks evolve in a phased approach. Detection typically occurs in the later phases of an attack, and analysis often occurs post-mortem to investigate and discover indicators from earlier phases. Observations of earlier attack phases, such as target reconnaissance, planning, and delivery, may enable warning of significant cyber events prior to their most damaging phases," IARPA wrote in announcing its Cyberattack Automated Unconventional Sensor Environment (CAUSE) program.
"It is expected that the technology developed under the CAUSE Program will have no 'human in the loop.' Experts may help develop, train, and improve the solution systems, but they will not manually generate warnings, guide the system, or filter warnings before they are delivered to the [IARPA] Team. The performer produced warnings must be machine-generated and submitted automatically…," IARPA wrote of the system.
By Michael Cooney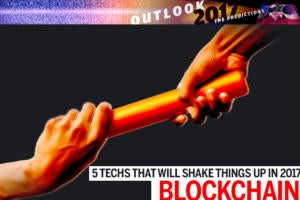 Bullish for blockchain
There's no shortage of hype around blockchain's potential to revolutionize transactions. Heading into the new year, some enterprises will put blockchain hype to the test as they start exploring its ability to reduce transaction costs, streamline partner interactions, and accelerate business processes.
Blockchains are distributed public ledgers, lauded for their ability to establish trust in the digital world by way of verifiable transactions and without the need for a middleman. The cryptocurrency bitcoin is the most familiar application. In the financial world, blockchains are expected to disrupt how financial institutions conduct payments and wire transfers, process securities trades, and handle compliance reporting, to name just a few use cases.
Outside of finance, industry watchers cite opportunities for blockchains to play a role in core business functions from supply chain and manufacturing to legal and healthcare. When there's an audit trail required – to track the provenance of finished goods, for example, or to document a real estate title – blockchain networks can be used to create verifiable, tamper-proof records in an encrypted format and without having a central authority.
Previous Page 1 2 3 4 5 6 Next Page