9 free Windows apps that can solve Wi-Fi woes
While there is no way to immediately solve all the problems associated with wireless connectivity, there are applications that can make things better -- and many of them are free. I've rounded up nine free pieces of Windows software that can go a long way toward helping you solve your Wi-Fi issues at home, in your office or on the go.
One especially useful feature is the signal strength display for each network, which includes an RSSI (Received Signal Strength Indicator). It also shows a moving graph of the strength of each network over time. So if you want to find dead spots, strong spots and so on, you only need to walk around with your laptop and look at the signal strength as you move.
I found it a tremendous help with my home network. I tested signal strength throughout my house by running Acrylic WiFi Home, and found that moving the router only a few feet made a surprisingly significant difference in signal strength for various locations. I can now finally stream Netflix, Amazon Prime Video and Hulu to my living room TV without the glitches and delays that have plagued me.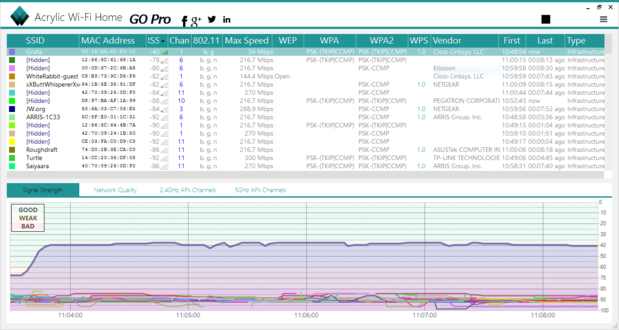 Acrylic WiFi Home displays the strength of multiple Wi-Fi networks.
If you try Acrylic WiFi Home, I suggest running it in Advanced Mode (get there by clicking the settings icon in the upper right of the screen and selecting Advanced Mode). This lets you see what channel your network uses to broadcast on and which nearby networks may also be broadcasting on that channel (and the strengths of those networks). As a result, you'll be able to find out whether there's any interference from other networks, and then configure your network to use a different channel if needed.
If you want something even simpler than Acrylic, give Homedale a try. It's a stripped-down Wi-Fi analyzer that runs as an executable -- no need for installation. It finds all nearby Wi-Fi networks and shows their SSIDs, MAC addresses, signal strength and encryption type.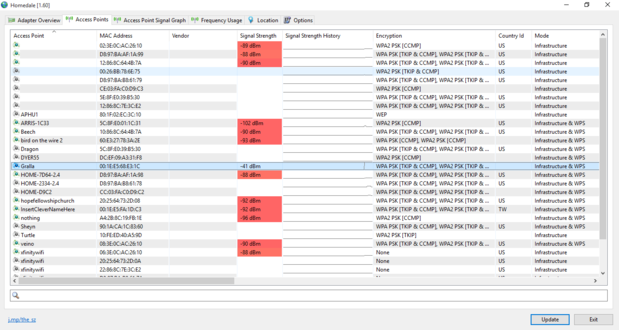 Homedale is a simple, stripped-down tool for checking your network's signal strength, as well as the signal strength of nearby networks.
Make sure to click the Update button at the bottom right of the screen or it might not show anything. Also, try the Frequency Usage tab, which shows you all the networks grouped according to the channel they use, and their relative strengths. That way, you'll be able to see whether your network has too much interference from nearby networks.
Technitium MAC Address Changer
As you no doubt know, every device that connects to the Internet has its own specific MAC address (such as 00-0C-29-C4-FD-C3). One way to keep your network safe is to use MAC address filtering -- in other words, configure your router to ban all devices from your network except those with a specific MAC address.

Technitium MAC Address Changer helps you test your network security by changing the MAC address of your Windows PC.
Previous Page 1 2 3 4 5 Next Page