9 free Windows apps that can solve Wi-Fi woes
While there is no way to immediately solve all the problems associated with wireless connectivity, there are applications that can make things better -- and many of them are free. I've rounded up nine free pieces of Windows software that can go a long way toward helping you solve your Wi-Fi issues at home, in your office or on the go.
Technitium MAC Address Changer is a great way to check whether the security is working. It lets you change your computer's MAC address to one that you haven't configured as allowed on your network. Once you do that, you can check whether your router blocks it. Technitium makes it easy to then reset the MAC address to its original setting.
Products such as Acrylic WiFi Home report on your wireless network's signal strength, but if you want to know about real-world throughput, download the TamoSoft Throughput Test. It sends TCP and UDP data between two Windows computers on the network and measures throughput in both directions between them, as well as packet-loss and round-trip time.
Setup can be a bit confusing. The application installs both a client and a server on each machine. You have to first decide which machine you want to be the server and run the server installation on that. The server will show the IP address and port number to which the clients can connect.
Next, install the client on the other machine or machines on the same network, type in the IP address and port of the server, and click Connect. The computer you've designated as the server will continuously monitor their throughput, packet loss and round-trip time, displaying the information as a moving graph.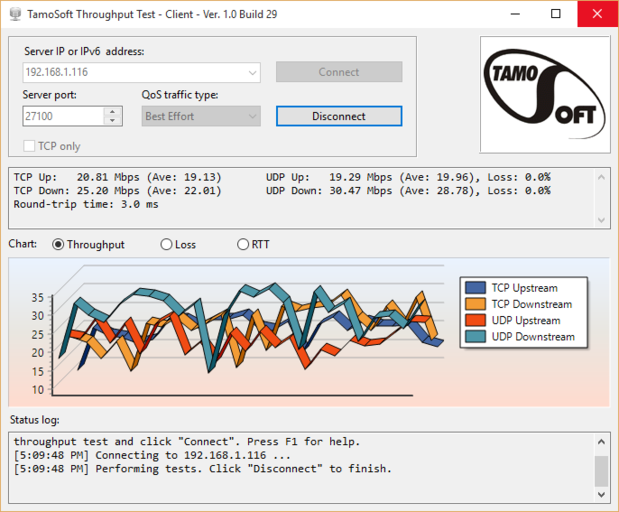 Tamosoft Throughput Test displays the throughput between two computers on a Wi-Fi network.
As with Acrylic WiFi, TamoSoft's application is especially useful for locating routers or other devices and finding dead spots in a house or office space -- I found instances when I took a single step and the throughput dropped drastically.
There's also a Mac version available, so you can test throughput between Windows and Mac computers as well.
If you're looking for the simplest and most basic test of your Wi-Fi speed, then Ookla Speedtest is the way to go. You don't need to download any software (which means this particular app works just fine for Macs as well). Just head to the site, click "Begin Test" and the site tests your upload and download speeds. It's a great tool for getting quick-and-dirty information about your network's throughput.

Speedtest is a simple method for testing your upload and download speeds.
It's also useful for finding out whether a slowdown is being caused by your wireless router or your Internet provider. Unplug your wireless router, connect a computer to the modem with an Ethernet cable, run this test and check the results. Next, plug your router back into the modem and do the same test using a wireless device. If you see that your Ethernet connectivity is normal, but your wireless bandwidth is extremely low, the slowdown is likely being caused by your router.
Previous Page 1 2 3 4 5 Next Page