9 free Windows apps that can solve Wi-Fi woes
While there is no way to immediately solve all the problems associated with wireless connectivity, there are applications that can make things better -- and many of them are free. I've rounded up nine free pieces of Windows software that can go a long way toward helping you solve your Wi-Fi issues at home, in your office or on the go.
Outside the home/office
If you find yourself sometimes using your computer via an open public hotspot, you need a VPN -- which protects your privacy by encrypting your online communications -- to keep you safe. And if you're using a for-pay hotspot, there is a way to keep the cost down if you've got more than one device.
There are plenty of for-pay VPN services, but if you don't need to use one frequently, you can get by with a free one.
TunnelBear is one of my two favorites because of its simplicity. First, it offers clients for Windows, Macs, iOS and Android. Better than that, though, you can run it without downloading a client -- just use a Chrome or Opera extension.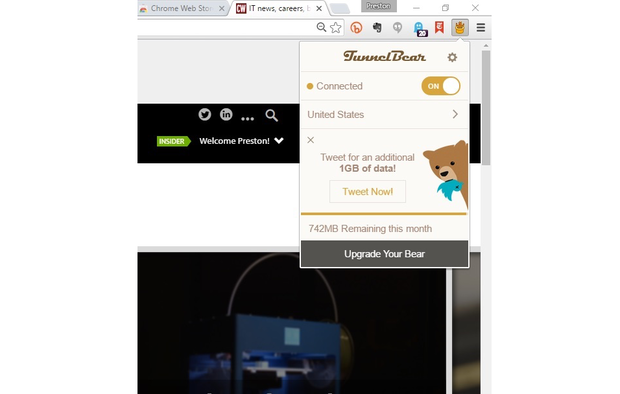 TunnelBear is an easy VPN to run: You can use a Chrome or Opera extension instead of a client.
Run the extension, turn on TunnelBear and you're protected. When you want to stop, just turn it off. You get 500MB of VPN access free every month; if you want more than that, it costs $6.99 per month.
If you use TunnelBear regularly, you'll find that 500MB a month doesn't go very far. So if you don't want to pay the $6.99 per month, CyberGhost is a good alternative -- although with a few caveats.
CyberGhost is simple to use: Just download and install the client. (Note: In order to download the free version of the software, click the Free Download link on the upper-right hand of the CyberGhost home page.) You won't even need to create an account; after you install the client, you're ready to go. There are clients for Windows, Mac, iOS, Linux and Android.
There's no limit to how much data you can use, but there is a limit on how long you can use it: After three hours of continuous use, you're disconnected (although you can then reconnect). You may have to view ads in the client as well.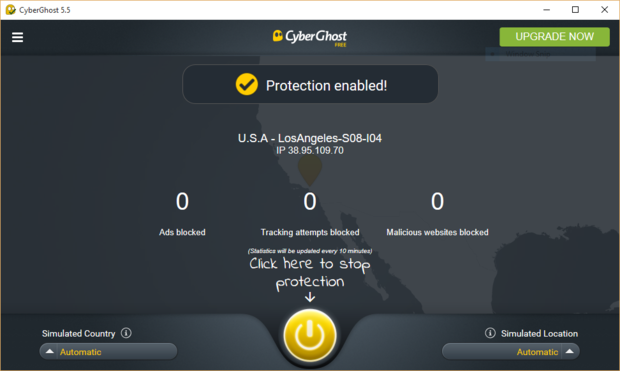 The free version of CyberGhost VPN doesn't limit how much data you can use per month, but you are limited to three continuous hours of use at a time.
And if all of the VPN servers are busy, you'll have to wait in line to start using it. I typically found wait times of less than five minutes, and occasionally I didn't have to wait at all.
There are also two for-pay versions -- Premium, which costs $6.99 per month, will work on only one device; while Premium Plus, which costs $10.99 per month, will work on up to five. Both versions are ad-free and offer unlimited data. They also are up to five times faster than the free version.
Previous Page 1 2 3 4 5 Next Page