9 free Windows apps that can solve Wi-Fi woes
While there is no way to immediately solve all the problems associated with wireless connectivity, there are applications that can make things better -- and many of them are free. I've rounded up nine free pieces of Windows software that can go a long way toward helping you solve your Wi-Fi issues at home, in your office or on the go.
Much as we like to think that free Wi-Fi is available everywhere we go, it's not. Hotels, airplanes and coffee shops may charge fees, and you may need to pay more if you want to connect more than one device. It's bad enough to pay for one device -- do you really want to pay for several of them?
There's an easy way around the problem -- turn your computer into Wi-Fi hotspot.
Connectify Hotspot Lite offers a way to do it. Connect to a hotspot with your computer as you normally would, and you can then use Connectify Hotspot Lite to set up a Wi-Fi hotspot to which other devices connect -- without additional fees.
However, there are a few hurdles you'll need to clear first. To begin with, the Connectify home page is a bit confusing when it comes to figuring out how to download the free (Lite) version. At the top of the page are two buttons: Buy Now and Download. Click the Download button and install the app; you can then choose the Lite option during installation, which will let you share Wi-Fi hotspots.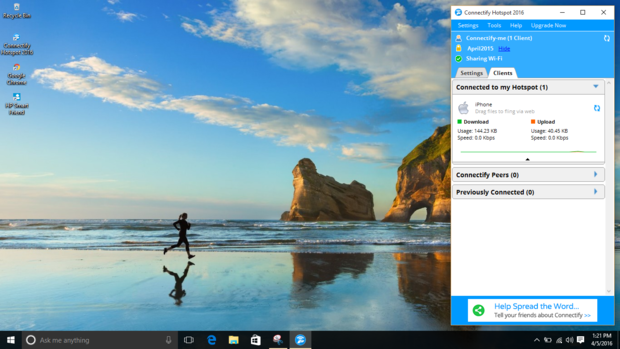 Connectify lets you share a single Wi-Fi connection with multiple devices by creating a portable hotspot.
You won't get other features such as being able to create custom hotspot names, the ability to share a wired connection and more. For that, you'll need to buy one of the for-pay versions that range from $35 to $60.
Also note that when you install Connectify, you may get a message saying that Windows Firewall is blocking access to the app. If that happens, click the Allow Access button.
Finally, though, you can choose a name and password for your hotspot, click Start Hotspot and then other devices can connect. Connectify will show all of the devices that connect to it and give details about each, including the kind of device, its IP address, upload and download connection speeds, and how much data it has used.
Previous Page 1 2 3 4 5