Accenture, NBA's Warriors to reimagine the fan experience
A new arena is set to be the centerpiece of a vibrant and varied business plaza, an ambitious project loaded with high-tech elements.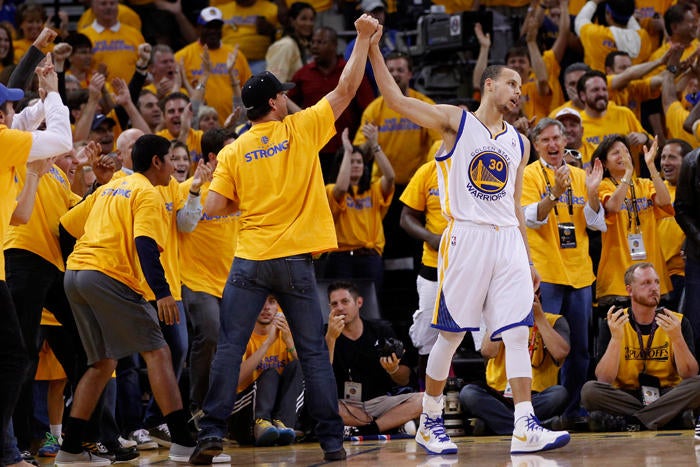 Credit: Reuters
The Golden State Warriors basketball team broke ground on a new arena this past January in one of the last undeveloped portions of San Francisco, and when it goes fully online in 2019, it will have a variety of technology elements designed to "reimagine the fan experience," as the team puts it.
The new facility, to be called the Chase Center, will be more than just an arena for basketball, concerts and other events. The complex, built in the Mission Bay region of southeastern San Francisco, will be a multi-purpose sports and entertainment complex spread over 11 acres, with two office towers providing 580,000 square feet of space, a five-acre public park and a plaza about the size of Rockefeller Center filled with restaurants and retail shops.
The site will be in operation year-round, going well beyond the Warriors' home during basketball season, according to Chip Bowers, chief marketing officer for the team.
"So we have to think about how to service a diverse audience," Bowers says. "It will host lawyers, product launches, TED talks -- you name it. There's a litany of events that will take place at the district and for us to create a unique experience needed."
In addition to the arena, the Warriors organization views the project a business opportunity to expand beyond the National Basketball Association.
"Our owners are aggressive and visionary in terms of what they want to accomplish," Bowers says. "Nowadays it's about more than the activity on the court or stage. It's about the overarching experience from the moment they arrive to the moment they leave. We saw it as an opportunity to do something different."
A wired arena
The Warriors enlisted Accenture Digital to help with the technology for the plaza, an ambitious undertaking that involves networking, customer interfaces and behind-the-scenes data crunching, according to Mike Sutcliff, Accenture's group chief executive, who describes the project as a labor of love.
"When you are a sports fan you start thinking about it when you wake up, and start thinking about out throughout the day," Sutcliff says. "I love the fact that they wanted to create the best possible fan experience they could. To do that you need more than the arena experience. You need transport and security and food."
This means offering more than just Wi-Fi coverage. For the Warriors, technology is opening new ways for visitors to interact with the site, such as making reservations at a restaurant or navigating parking and public transportation. Other features aim to help fans find an easier ingress or outgoing points in the venue, order food and have it brought to your seat, or connect with friends at the arena.