Ask the iTunes Guy: Limited options for viewing music, album repeat, and duplicate tracks
Got questions about iTunes? Kirk McElhearn has the answers.
Sometimes it's the little things. Sometimes you just want an app to display your content the way you want, but with Apple, it's not always the case. Take the Music app; you can no longer view a list of albums and songs, and this annoys some users. Some people want to play an album on repeat; it turns out there's a way to do this, but it's not obvious to everyone. And here's something iTunes does well: it alerts you when you add duplicate tracks to a playlist.
Just the songs, please
Q: I want to see a list of all the songs by an artist on my iPhone. In the past, I could select an artist and see a listing sorted by albums with all their songs visible. Now when I click an artist, I see all the albums, and I have to tap one to see its songs. I have a lot of Springsteen on my iPhone. I do not remember which album each song is on. Do you know of any easy way of letting me just see songs by an artist, not sorted by album? Everyone is like "Make a playlist!" That's obnoxious, and I shouldn't have to because the functionality used to exist. "Tap the image of the artist to play the songs!" I don't want to shuffle all the songs by the artist. I want to see a list! Got anything for a floundering fan who just wants to see artist's songs listed?
I feel your pain. Your exasperation. And your frustration. In iOS 8, you could tap an artist's name, then, as you say, see a list of albums followed by their songs. I was able to find a screenshot in my archives, which shows how albums and songs displayed when selecting an artist in iOS 8: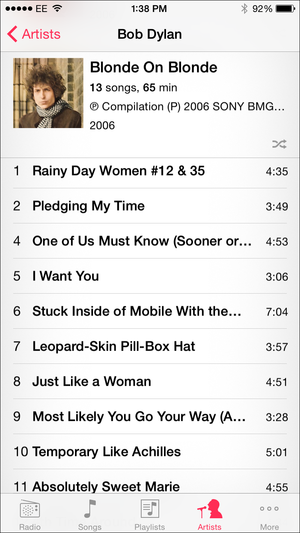 The Music app in iOS 8 displayed each of an artists' albums, then their songs.
Compare that to the way it displays now: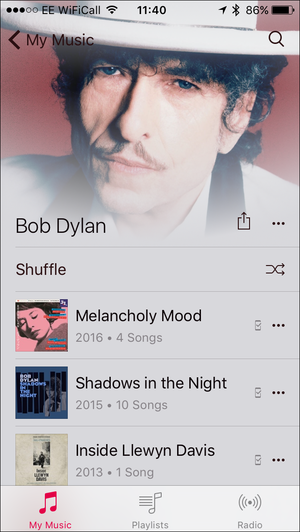 iOS 9's Music app shows you albums, not songs. If you want to see more, you need to tap each album.
In addition to the app not displaying the albums' songs, it also displays them in reverse chronological order, rather than in alphabetical order. This highlights one of the biggest problems with the Music app: it offers you no options for viewing your music. For a long time, people were used to viewing the albums in alphabetical order, then songs. Then Apple pulled the rug out from under us and switched to a simple album list in reverse chronological order.