Ask the iTunes Guy: More changes to iTunes 12, more problems to fix
Users are still trying to figure out the latest version of iTunes.
There are two ways to remedy this. The first is to edit the Year tag for all your music. This can take a long time. I add years when I rip CDs or buy music (except for classical music) and it's quick if you do it when you rip CDs, but not so much if you have a big music collection and haven't done this in the past. This will take a long time, in part because you'll have to look up the release dates.
The second option is to remove dates from all your music (or at least that music you don't want sorted by date on an iOS device). To do this, select a group of tracks, press Command-I, and then click in the Year field.
If you've selected multiple tracks with different dates in the Year field, you'll only see a hyphen in that field.
Delete the date, or, if you see a hyphen in the field, press the Delete key, and then click OK. iTunes will erase the dates. Resync your music to your iOS device, and all your albums in Artists view will be sorted alphabetically.
Buying without borders
Q: There are a couple of albums that I want to buy that are not in the US iTunes store, but are available in others, like Ireland and Poland. How do I buy over there and get it here?
Unfortunately, you can't do this. One of the advantages of the iTunes Store is that it tears down barriers, but only if the record label or distributor wants these barriers removed. I don't know why labels don't list their albums in all the country stores, unless there are licensing issues.
Since music sold in the iTunes Store doesn't have DRM, you could have a friend in one of these countries buy the albums for you and send you the files. They'll have that person's Apple ID embedded in them, however.
Different playlist views
Q: In iTunes 12, some of my playlists are shown in list form and others are shown in icon form. How can I make them all the same?
iTunes 12 added a new view called Playlists view. It just so happens that I wrote an article about the different views in iTunes this week.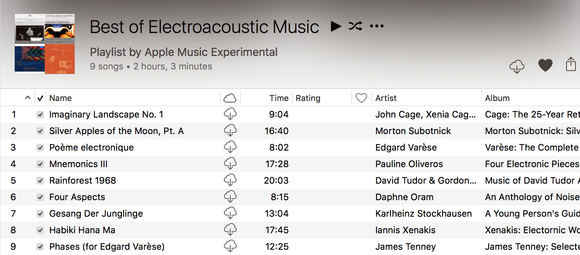 Songs view (above) and Playlist view (below).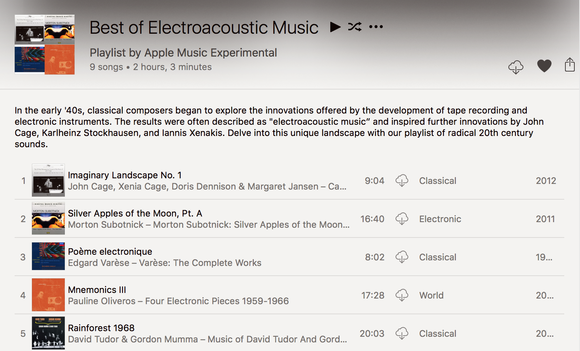 If you want to use the older list view, you need to choose Songs from the View Options pop-over I describe in that article. If not, Playlist view shows each track with a small album artwork thumbnail. I find that Playlist view is practical if you have playlists with music from a lot of different artists and albums; Songs view is great for playlists where the music is by the same artist, or just contains a few different albums.