Build 2013 keynote: Microsoft unveils Windows 8.1, pledges 'rapid release' schedule
Microsoft executives formally unveiled Windows 8.1 at its Build 2013 conference, pledging rapid, responsive updates will empower its developer base.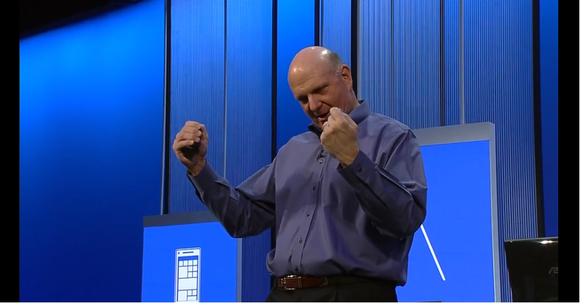 Microsoft formally unveiled Windows 8.1 to developers on Wednesday, with executives promising a "rapid release" schedule to keep the pace of new innovations coming.
For those who have read PCWorld's hands-on of the Windows 8.1 preview, Microsoft's announcements were nothing new. Executives confirmed the reworking of the Start menu, new boot-to-Desktop options, as well as a slew of updated apps that take advantage of Windows 8.1, which can be downloaded in preview form from preview.windows.com.
For Microsoft, the Build 2013 developer conference represents a chance to connect or reconnect with developers, luring them back to the Windows platform. Although Microsoft is nearing 100,000 Windows 8 apps, that still falls well short of the millions of apps that have been written for the Apple iOS and Google Android platforms.
For Steve Ballmer, the chief executive of Microsoft, the company is undergoing a transformation to a business that develops devices and services, and not just software. "And the only way that can happen is by a company undergoing a rapid-release schedule," he said.
Although Ballmer and other Microsoft executives focused on Windows 8, they took a few moments to make a few announcements regarding Windows Phone, which provides an interface consistent with that of the other Windows platforms. "It's beautiful, and it looks like the same software that we have on Windows tablets, Windows PCs, and our Xbox systems," Ballmer said.
The big news for Windows Phone is that Sprint will add the HTC 8XT as well as the Samsung ATIV S Neo, meaning that Windows Phones will appear on all U.S. wireless carriers.
But whether it's a phone or a tablet, smaller screens will become increasingly important, Ballmer said.
Redoing the hardware
"The PC of today doesn't look a lot like the PC of ...five or seven years ago," Ballmer said, referring to an "explosion of new devices," including small-form-factor tablets. Acer's eight-inch ATIV tablet is "flying off the shelves," Ballmer said, enabling kids to do homework and do a little bit of entertainment, too.
"This small form factor is very important," Ballmer said. "I wouldn't call them PCs, but this small form factor is very important."
Ballmer also promised that hardware makers would deliver Windows 8 devices with touchscreens, a capability that was neglected within early Windows 8 offerings. Consumers will see an "outpouring" of new devices that are notebook computers in every respect, and touch-enabled, Ballmer promised, Customers that have touch systems are much happier than non-touch-enabled customers, or Windows 7 customers, he said.
Ballmer showed off the Helix notebook from Lenovo, a Core i7 device with a full day's worth of battery enabled with a keyboard dock.. "It literally makes it the most powerful PC, and the most powerful lightweight tablet... should we call it a PC? Should we call it a tablet? I'd call it all Windows, all the time," Ballmer said.