Chick-fil-A stays cool (and safe) with IoT sensors
As Chipotle recovers from its food-borne illness outbreaks, franchisees for the popular chicken chain are ushering in the 'Internet of Chicken' by using low-power wireless sensors and gateways to monitor their walk-in freezers and refrigerators.
Food safety was thrust into the public consciousness in 2015 after salmonella and E.coli outbreaks sickened people at Chipotle. Determined to avoid such public relations disasters, quick-service restaurants are taking extra precautions to keep customers healthy and ensure that their products comply with health inspection standards. Chick-fil-A, whose commercials feature chicken-shilling cattle, is using wireless sensors to monitor the temperature of walk-in coolers and freezers. Yes -- the Internet of Chicken has arrived.
Chick-fil-A franchisee Matthew Michaels, who equipped his two Texas stores with the sensors 18 months ago, notes that several prominent incidents have underscored the importance of adhering to food safety standards, both in stores and in the supply chain. "There are stories about food safety gone wrong all over the place," Michaels tells CIO.com. "You've got to be really careful with that stuff."
The market appears ripe for such scenarios and many others where Internet-connected gadgets can monitor home security, automate household appliances and control conference room lighting. Gartner forecasts that 6.4 billion connected things will be in use worldwide in 2016 and reach as highas 20.8 billion by 2020. Professional services, in which businesses pay vendors to design, install and operate IoT systems will account for the bulk of the $235 billion in IoT spending this year, according to Gartner.
Monnit is monitoring it
Chick-fil-A's adoption of IoT certainly counts in that category of Internet-connected devices. Two dozen stores in the Georgia chain are using sensors and wireless gateways from IoT systems provider Monnit to track the temperature of walk-in refrigerators and freezers. Previously, Michaels' store managers checked thermometers on each cooling system every three to four hours to ensure that temperatures were up to par. But this process does little good when the restaurants close for the evening, when a malfunctioning freezer or walk-in could cost Michaels $15,000 to $20,000 in inventory replacement costs. A franchisee toiling in the razor-thin margin quick-service food business can ill afford such losses.
Working with Monnit, Michaels installed on his cooler systems roughly 20 sensors that read and transmit temperature data every hour to a wireless gateway in each store, which in turn communicates with Monnit's cloud service. If a temperature falls below a certain threshold between midnight to 5 a.m., Monnit will text Michaels and message store managers, who will then check out the issue. If it's not something that can be fixed immediately, such as simply shutting a fridge or freezer door that someone left ajar, managers can remove the perishable foods and take the machine out of rotation for repair or replacement.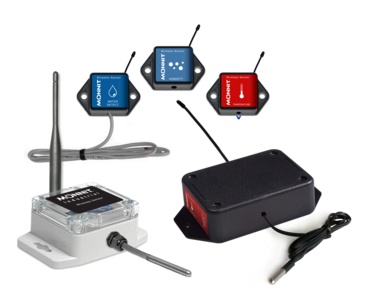 Working with Monnit, Chick-fil-A installed 20 sensors in its coolers to read and transmit temperature data every hour to a wireless gateway in each store.