Clean Text 1.0 review: Now even mobile devices can scrub untidy copy
iOS utility helps reduce the amount of time spent editing text to fix common problems such as extraneous line breaks or spaces, remove empty lines, join paragraphs, and more.
Clean Text supports iCloud sync, so text pasted into the app on one device is instantly available on others. However, the current Mac version (which hasn't been updated since 2012!) lacks the ability to sync; the developer is working on a completely new version which will address this limitation.
Conversely, the mobile version lacks a few handy desktop features. There are no statistics, one-click macros, or text formatting options, for example. This is a decidedly more basic affair, although multiple undo and redo levels are supported, so changes are never permanent.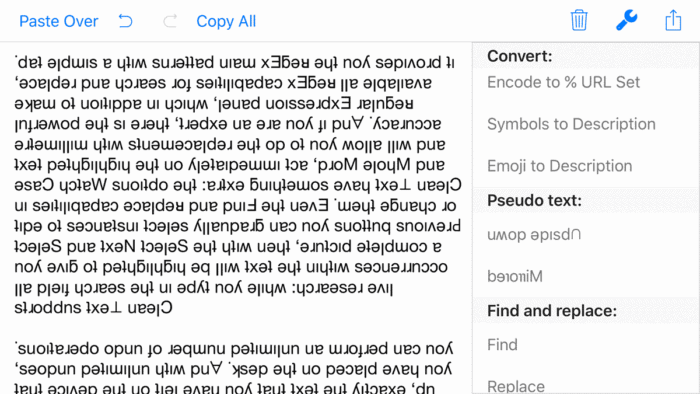 Like to express yourself with text on social networks? Clean Text makes it easy to make words appear upside down or in reverse.
Bottom line
Not yet as comprehensive as the Mac version, but Clean Text still manages to be a convenient utility for taming text on iOS devices.