Create collaborative online photo galleries
Assemble your friends' and family's photographs into a communal album
For most events, parties, family gatherings, and vacations, there isn't just one designated photographer in charge of taking and sharing all the pictures. It's more likely that photos from various people will end up sprinkled across online galleries, posted to social media sites, or circulated via e-mail.
nstead of each person uploading personal albums to a separate site or figuring out who's on Facebook and who's not, try creating a collaborative album online. Here are five resources for carrying on the togetherness online, even after the party is over.
MobileMe
If you use Apple's MobileMe service ($99 per year), you already have the power to create collaborative albums. Best of all, you're the only one who needs a MobileMe account—you can allow anyone you want to add photos once you've created the album. To create a collaborative album from iPhoto, go to the album's Info pane and click Change Settings. In the resulting pop-up window, check the boxes under Allow For Uploading Of Photos Via Web Browser, and Adding Of Photos Via Email.
To limit access to the album, you can specify exactly who can see and add images to it. Create a group name and password, and then select that group from the Album Viewable By drop-down menu. Share the name, password, and URL with your group. To get the word out, click the Tell A Friend button in the album's Info pane, and iPhoto will compose an e-mail with all the info they need to contribute.
When users want to upload to your collaborative MobileMe album, they provide a name and email address.
If you shoot photos with your iPhone and use the MobileMe Gallery app, you can choose who sees the album and then allow viewers to upload the awesome shots that you didn't get from their browser at home.
Yogile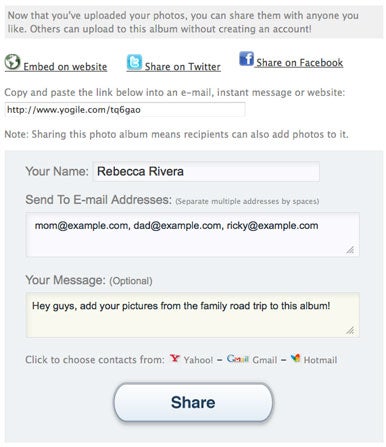 After you create an album, Yogile prompts you to share it over Twitter, Facebook, e-mail, or by embedding it on a Website.
If you don't use MobileMe and paying $99 per year for a syncing service doesn't jibe with your budget, you can use other ways to get your people to add photos to a single album. Yogile is a site that greatly simplifies the album-creation process.
After you create a free account, Yogile prompts you to create an album password and an album-specific URL. To upload pictures, just send them via e-mail to your album's custom e-mail address and include the album password in the subject line. The photos will be automatically uploaded. Getting others to contribute to your project is as easy as giving them the e-mail address and the password to your album (for the privacy-minded, the album password is not your overall Yogile gallery password). This site is definitely fast and easy to use, and, unlike with Flikr and Picasa, the default setting for your albums is Private—you have to actively seek out the option to make your album public. The downside is that you can upload only 100MB per month, unless you pay $25 per year for an upgraded account.