DropTask: Visual task manager gives clearer picture of projects
Circular-themed dashboard offers drag-and-drop simplicity and a host of information at a glance.
If you're in need of a tool to help you or your team manage tasks and collaborate on projects there's no shortage of free or inexpensive Web-based platforms available. But often managing the project management tool becomes a project in itself. DropTask, a free visual task management Web app that launched in February, offers a more intuitive way to monitor and manage workloads.
A bird's-eye view of projects
With its circular-themed dashboard DropTask gives you a birds-eye view of who's been assigned what tasks; due dates; and the status of a task through play, pause and check symbols that indicate whether something is not started, in progress, on hold, or completed. The tasks that involve the most work are represented as larger circles within a group, with less-complicated tasks represented as smaller circles.
While this circles-within-circles theme takes some getting used to, it works well if you're a global or strategic thinker who wants to quickly grasp work distribution. For example, let's say your company is launching a new product. Each large circle, or group, could represent a function such as marketing, IT, or human resources with the smaller circles symbolizing various tasks each has been assigned. Or groups could represent clients with inner circles expressing what needs to be done for each of them.

Birds-eye view of tasks grouped by function.
To assign tasks to others you can drag team member photos on the left onto a task or choose team members through a pane that pops up on the right of the screen when you click on a particular task. Within it you can also add a due date, tags, or files.
Most helpful, however, is the ability to add subtasks. When someone checks off subtasks on the right, sections of the outer rim of the task light up to indicate progress. Again, for people who don't want to pore over written updates and lots of words this is where DropTask shines—its ability to give a user a quick visual sense of task status.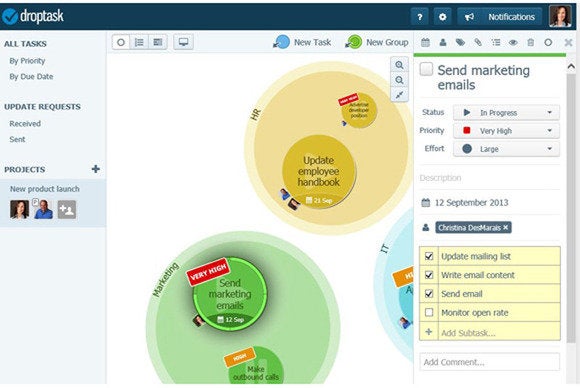 Highlighted sections of a task's circular border show progress.
Users can request an update from others, who can respond by clicking on a link in their email or in the Notifications tab within DropTask.
Google users will especially appreciate Google integration with DropTask so that every due date you set in DropTask shows up on your Google Calendar and any to-do lists in Google Tasks automatically morph into Groups within DropTask. DropTask also lets you attach files to a task using Google Drive or Dropbox—changes team members make to a document show up in the cloud in real time so you never have to worry about version control. You can also attach files from your computer to a task.