DropTask: Visual task manager gives clearer picture of projects
Circular-themed dashboard offers drag-and-drop simplicity and a host of information at a glance.
That said, DropTask will be less appealing for folks using Outlook or some other non-Google information manager because it lacks its own built-in calendar. You can certainly view tasks in a list according to when they're due, but with DropTask you won't get the kind of rich calendar features you'll find in more robust collaboration products such as Basecamp.
You can choose to receive email notifications from DropTask at varying intervals—as a daily summary or whenever anyone on your team does anything such as complete a task or make a comment. And if you don't care for the circle view you can switch to a list view according to priority, due date, or various filters such as team member, tasks not yet started, or which ones are overdue.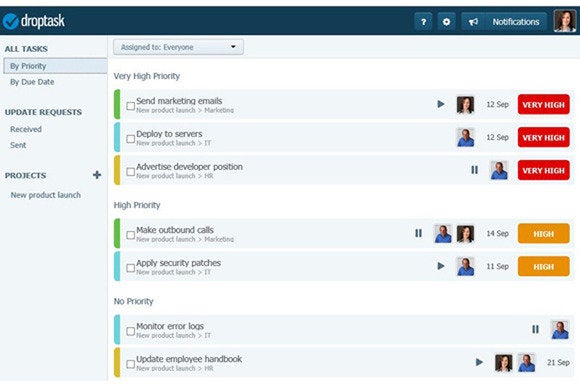 DropTask's list view filtered by priority of tasks.
Some caveats
Without built-in calendaring, Gantt charts and timelines, DropTask is more of an individual or team task manager than a full-fledged project management solution.
DropTask currently crashes in Chrome on Windows when you zoom in and out to change how big or little a cluster of groups appears. According to DropTask, the issue is caused by a bug in a recent Chrome update and the company is working with Chrome developers to have it fixed "soon." If you usually use another browser it's a non-issue.
Also, if you like to update projects on the fly using your smartphone or tablet you may be disappointed that at the moment mobile apps for DropTask do not yet exist (although the company says they're in the works). DropTask does have a mobile-optimized site that works fine on a mobile browser, however.
Another knock, which may or may not be important to you depending on how you work, is DropTask's all-or-nothing permissions. If you invite someone to a project they can see everything you do within it meaning you can't hide certain things from clients, such as internal discussions, project mock-ups or other behind-the-scenes activity. Some other platforms such as Basecamp let you hide messages, to-do lists, files, events, or documents from clients.
Linear thinkers, in particular, may be completely uncomfortable with DropTask's simple, high-level geometric approach to task management. For them, a collaborative task management application such as Asana might be better because it drills into data horizontally, using a three-column format to represent a list of projects on the left, a list of tasks within a project in the middle as well as detailed information about a task on the right.
But for businesses or individuals who don't need to let clients behind the curtain and prefer high-level reports over detailed status updates, DropTask is a fresh and uniquely visual way to manage tasks. With its drag-and-drop simplicity and ability to communicate a lot of information at a glance, it's worth checking out, at least if you're a global thinker who can do away with the typical lists-within-lists format many other task management solutions employ.