Facebook CEO Mark Zuckerberg predicts VR headsets will look like glasses in a decade
Can Facebook succeed where Google Glass failed?
When Facebook launched in 2004, CEO Mark Zuckerbeg couldn't have imagined that his fledgling social network would one day build a solar-powered plane that would beam Internet connectivity to remote areas. That's happening right now: It's called Aquila, and it flies 60,000 feet above the ground for months at a time to connect the world. This plane is part of Zuckerberg's vision for the next year. But he also has incredibly specific long-term goals, like this one: In 10 years, virtual reality headsets like Oculus Rift will look like your average pair of prescription glasses with the ability to view VR worlds and augmented reality overlays at the same time.
Zuckerberg outlined Facebook's 1-year, 5-year, and 10-year roadmaps during the opening keynote of F8, the network's annual developer conference. Facebook's highest priorities are virtual reality, artificial intelligence, and bringing Internet connectivity to the entire globe.
Facebook's virtual reality plans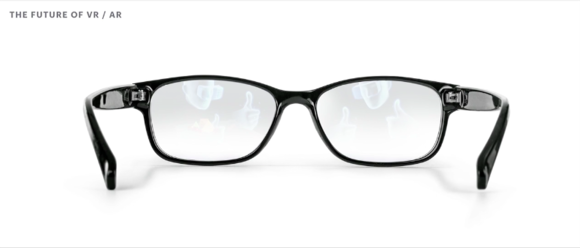 A rendering of what Facebook's VR/AR glasses will look like.
The company is obviously hyper-focused on VR right now, with the Rift's consumer release last month and the launch of Samsung's more affordable Gear VR headset late last year. But right now, the headsets are used primarily for gaming. Facebook has bigger plans.
Zuckerberg said the company is working on social experiences for VR headsets that will let Facebook users hang out in virtual spaces. Right now, that experience looks pretty rudimentary, with avatars representing real people playing simple games. But Facebook is dreaming up a richer landscape to bring your social network to life.
The company is also envisioning the day when VR headsets like the Rift are glasses that offer virtual reality worlds and augmented reality overlays in one device. It's "going to take a long time to make this work," Zuckerberg said.
"But when we get to this world, a lot of things that we think about as physical objects today, like a TV to display an image, will just be $1 apps in the app store," Zuckerberg said. "This is the vision, this is what we're trying to get to in the next 10 years."
Artificial intelligence on the horizon
Facebook uses artificial intelligence to determine which stories to show you in your News Feed, but that effort is pretty low-tech compared to what Facebook is working on.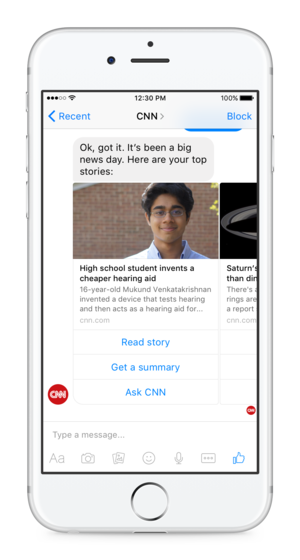 Facebook Chat bots in Messenger can help you stay informed.
"In the future, we're going to be able to look at photos and videos and understand what's in them," Zuckerberg said. "We're going to be able to read the articles and know what they're about."