Facebook helps developers with new analytics and login tools
Soon, developers will be able to see what their users do for a living.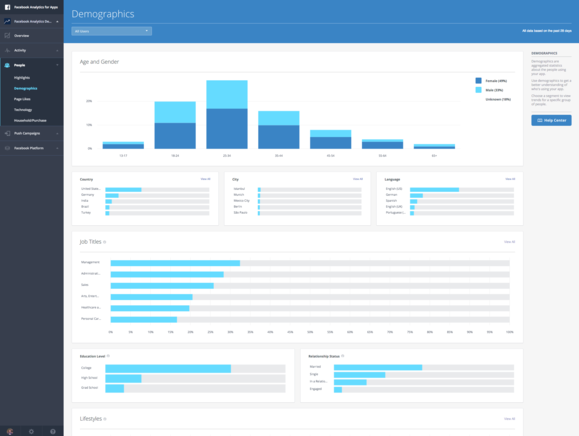 The demographics section of Facebook Analytics for Apps. Credit: Facebook
Facebook is giving developers a host of new tools designed to help them better access and engage users, including improved analytics and new ways to log in to apps.
One of the biggest new developer tools the company announced at its F8 conference in San Francisco Tuesday was Account Kit, designed to let developers easily create login pages that accept a user's email address, phone number or Facebook login. That way, people using a mobile app that's built with Account Kit can sign up for an account just by punching in their phone, and authenticating with codes sent to them via text message.
Facebook does all of the heavy lifting for developers on Account Kit's back end, so they don't have to worry about setting up a system to take in phone numbers, Facebook logins, or anything else.
The company partnered with Indian music streaming app Saavn to test Account Kit, and the app received more than 500,000 sign-ups through just phone numbers over two months.
In addition to Account Kit, developers are also getting improvements to Facebook Analytics for Apps, a tool that lets them measure how people are using their application. The service, which is being used in more than 450,000 apps, will now show developers aggregated data about the education history and employment of the people using their application, in addition to other demographic data.
Developers don't get specific title information, but they'll be able to know if people are in broad categories like "Management," and "Sales."
One caveat about the feature: it works without users being logged into Facebook through the application, so developers will be able to know what their users do for a living -- at least, in aggregate -- without those users explicitly consenting to give away that information. (Developers do have to acknowledge in their privacy policies that they're integrating with Facebook as part of the company's platform agreement.)
What's more, marketers who use the analytics tools will get a new capability aimed at engaging users who have already downloaded their application through push and in-app notifications. Using Facebook Analytics, they'll be able to target push notification campaigns at users based on how those people use their apps or demographic information like employment data, location information and gender.
It's something that echoes to a degree the push notification services that developers will lose when Facebook shuts down its Parse development platform next year. The company announced earlier in 2016 that its popular mobile back-end service would be going away and leaving applications that rely on it high and dry.