Final Draft 10 review: New ways to plot your next Oscar-worthy screenplay
With more than 100 templates specifically tailored for stage and screen, Final Draft 10 is the leading screenwriting software used in film and television productions.
Better together
Final Draft 10 introduces an improved way for two or more writing partners across town or halfway around the globe to collaborate on a script in real time. This requires the host to first share a Session ID number with colleagues, who then use their own copy of Final Draft 10 to join in. By default, collaborators are restricted from making changes to a script until the host gives them permission to join in the fun. It's a huge improvement over the half-hearted collaboration tools in earlier versions.
At last, true real-time collaboration arrives with Final Draft 10, even if your co-writers are halfway around the world.
Although not lofty enough to gain marquee status, the smaller improvements make a bigger impact in your daily workflow. My favorite allows you to save alternate lines of dialogue inside the same script file, great for writers who want to play with a few variations before committing to just one. Once added, you can easily cycle through alternates without cluttering up the formatting.
Should you be fortunate enough to get a script into production, scene numbers have also been overhauled in Final Draft 10, with more robust numbering schemes and the ability to number from the current scene. Finally, file names can be automatically added to headers or footers, and bold text styling is now an option in the revision menu.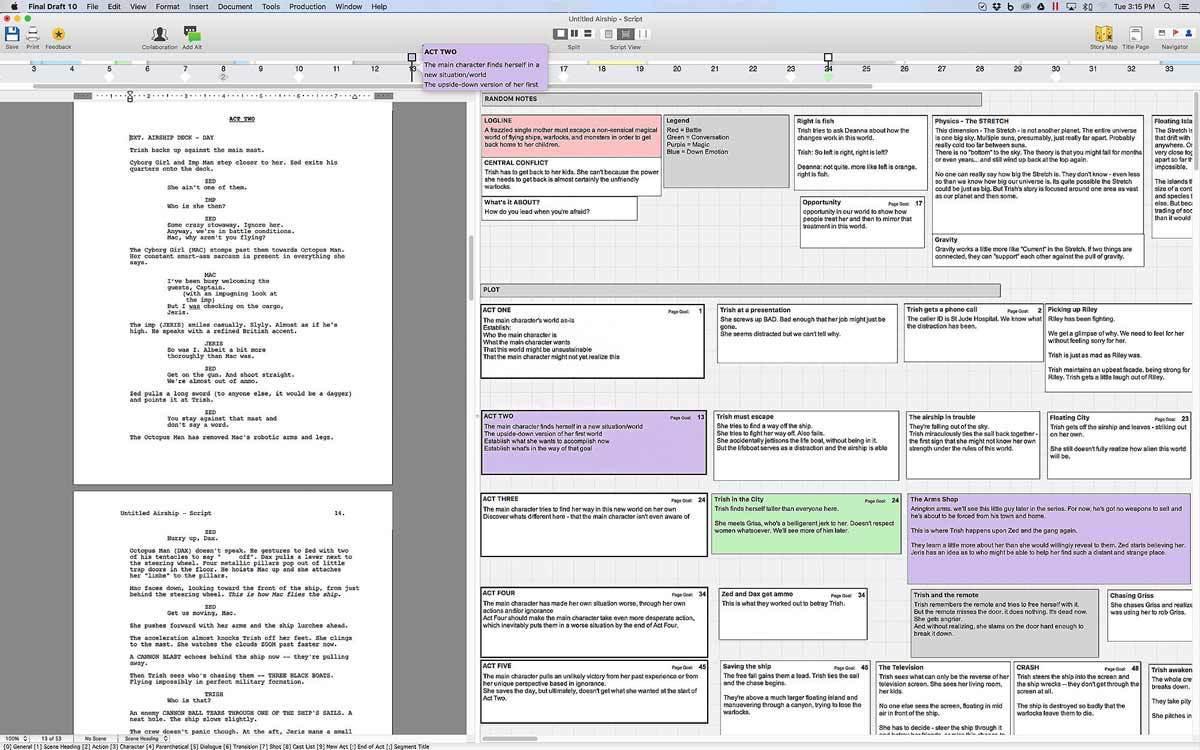 Structure Points are pins that can be added while in Beat Board or Story Map modes as a visual reference where acts or other key plot points should take place.
These enhancements add up to a worthwhile update (downloadable upgrades are $100), especially for those who skipped the previous version. As a proud Magic Trackpad owner, there is one thing still on my wish list: Gesture support, such as pinching to zoom in or out of a page like Microsoft Word already does. Also, full-screen implementation remains awkward, with the Navigator window stubbornly hovering over the main window and no way to temporarily merge both windows in one harmonious union.
Bottom line
Final Draft 10 introduces several legitimately cool new features like Beat Board, Story Map, and real-time collaboration to make up for the last ho-hum update, but there's still no support for gestures or true single window full-screen mode.