Five hidden tools and tricks for Google Calendar
Learn more about this free calendar's powers--from helpful keyboard shortcuts to updating events via SMS--with these tips.
You can refine the results by marking people as optional attendees, changing the meeting duration, ignoring certain conflicts, or specifying the earliest and latest times you want. The results will update to reflect your new requirements.
4. Add attachments to events
Need to share a document with meeting attendees? Visit the Labs section of your Google calendar by choosing Labs from the gear icon at the top right of the page. Scroll to Event Attachments and click Enable, and then Save.
The Event attachments lab is an experimental feature that lets you attach a Google document, spreadsheet or presentation to your event, or upload a file from your computer. Do note that if you're sharing a Google document, you must grant them access to view it beforehand.
Once you enable the Event Attachments lab, an Add Attachment link will appear under the description of the event. Click this to browse your Google Docs files or upload a file from your computer.
5. Add events to Google Calendar via SMS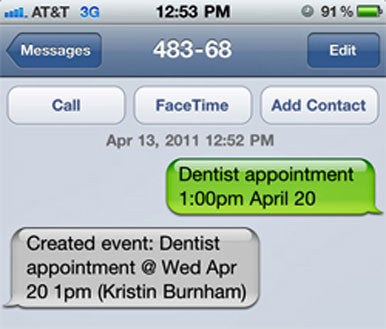 Add events to your Google Calendar by sending a text message with your mobile phone.

If you're at the airport and forgot to schedule a meeting in your Google Calendar or you don't have good Internet service, don't worry: You can easily add events via your mobile phone in a few quick steps.

First, from your computer, sign in to your Google Calendar account, click the gear icon at the top right of your screen and choose Calendar Settings. Then click the Mobile Setup tab and enter your country, phone number and carrier. Google will send a verification code to your mobile phone; enter the code and click Finish Setup.

Once the setup is complete, you can send events to your calendar via your mobile phone by texting the details of your event (such as Dentist appointment 1:00pm April 20) to GVENT (48368). You'll receive a confirmation text message shortly after, and the event will appear in your calendar.