Free spreadsheet apps can show you the money, but paid versions spare you from ads
Of the five mobile spreadsheet apps Liane Cassavoy tested, the best made it surprisingly easy to work with the data on a small screen.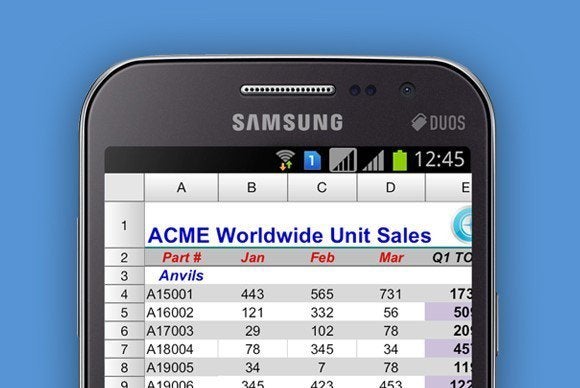 Free spreadsheet apps are a cool idea, as long as you're comfortable with their limitations. Many are ad-supported, for instance, so expect part of your screen to be trying to sell you something. Upgrading to the paid version (when available) might be worth the ad relief and extra features you'll get in return.
Also, working with a spreadsheet on any smartphone screen--even some of the bigger devices available now--can be a squinty affair, best for viewing or extremely basic data entry. Of the five mobile spreadsheet apps I tested, the best made it surprisingly easy to work with the data on a small screen.
Free Spreadsheet
Free Spreadsheet is ad-supported. And while I understand that everyone has to make money, I still found the ads that run across the bottom of this iOS app a bit distracting.
Overall, though, Free Spreadsheet is easy enough to use. Its layout is roomy, so even on the small screen of my iPhone (which feels even smaller now compared to the new iPhone 6 models) I didn't have to squint to see the values of each cell--though, of course, the number of cells you can view on an iPhone screen is limited. l also like how the touchscreen interface works when inputting data.
Saving files to your iPhone is easy, but transferring them to a computer via the built-in Wi-Fi sharing didn't work well for me. My computer recognized them only as image files, and not as spreadsheets that I could open in Excel.
For basic number crunching on an iOS device, Free Spreadsheet does the job. But I wouldn't do anything more than that on this app; it would be way too tedious.
Documents To Go
If you opt for the free version of Documents To Go, you'll also be faced with ads. Upgrading to one of the paid options for this suite will eliminate those but that's not the only reason I'd suggest forking over $6.99 (for Cloud access) or $16.99 (for the Premium Pack) on your iOS device, or $14.99 (Premium) on your Android.
These paid apps let you open, view, and edit Microsoft Office files (Word, Excel, and PowerPoint) that you have stored in accounts such as Box, Google Drive, Dropbox, OneDrive, and more.
If you stick with the free version, your access is more limited, but you still have Documents To Go's slick interface, which allows you to work with the most detailed spreadsheets with ease.
Switching between worksheets is easy, as is entering numbers and formulas. At times, I found Documents To Go a little too busy on my small iPhone screen, but that's a worthy trade-off for the power of this portable spreadsheet tool.