From tacos to HR, chatbots make it personal
Chatbots are emerging as a shiny new tool for enterprises. These virtual assistants can differentiate themselves by personalizing the software with contextual information such as location.
Automated software assistants, or chatbots, are moving into the mainstream, helping you more efficiently order tacos, manage human resources tasks and generate sales leads from a messaging interface. As the latest plot point on artificial intelligence's long timeline, chatbots simulate natural language to make it seem as if you are engaging in a discussion with a human concierge who is acting on your behalf.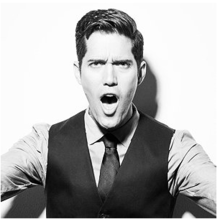 Andy McCraw, Taco Bell's manager of digital innovation.
Chatbots picked up steam thanks to messaging platforms such as WeChat and Slack, while Facebook, Microsoft and Google are building similar capabilities to bolster their platforms. Now businesses outside of the technology sector have begun building their own bots to strengthen connections among chat-happy millennials. Yet all of the bot-builders must clear a key hurdle: offering enough personalization to help their bots evolve from a nifty chat tool to an essential digital assistant.
TacoBot will serve you now
Taco Bell's aptly named TacoBot allows you to order tacos by instant messaging with a human-like assistant within Slack messaging software. You type something like, 'Hey Tacobot, I'm hungry. I want one crunchy taco.' TacoBot will make recommendations, such as offering to add guacamole or other toppings to the taco, before offering to complete the order at a local Taco Bell of your choosing.
"We looked at conversational commerce and felt like there was something there," says Andy McCraw, Taco Bell's manager of digital innovation. McCraw says TacoBot is a prime example of how Taco Bell is extending its digital strategy to reach consumers through emerging ecommerce channels.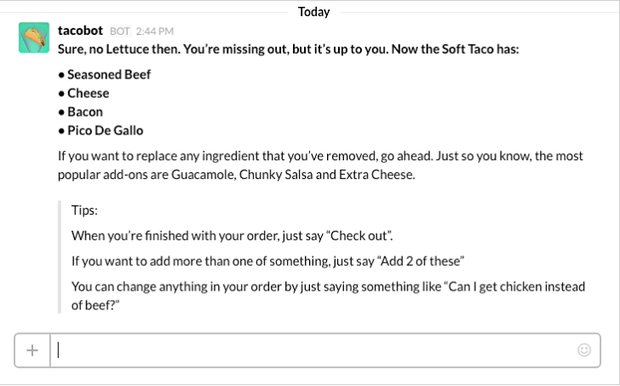 Taco Bell'sTacoBot allows you to order tacos within Slack messaging app. (Click for larger image.)
TacoBot is currently available to only a handful of Taco Bell partners, but more than a 1,000 companies have requested to be invited into the next wave of availability. As the service ramps up, Taco Bell plans to add options to have food delivered and group ordering, McCraw says. For example, TacoBot would message user Paul that Andy is going on a taco run. Would Paul like to order anything? "If I can have an interaction with you in a very relevant moment, that's extremely valuable to me as well as to you," McCraw says.
It can be easy to become smitten by bots, particularly the notion that a digital assistant such as Jarvis from the "Iron Man" films is available at your beck and call. Power users in Silicon Valley, tired of downloading and managing dozens of apps on their smartphones, love the idea that bots can collapse functionality performed by multiple apps into a single messaging UI. But the most valuable bots will provide consumers with more than more efficient use of screen real estate. They will be highly personalized to each individual's preferences, including patterns of online behaviors and activities.