From tacos to HR, chatbots make it personal
Chatbots are emerging as a shiny new tool for enterprises. These virtual assistants can differentiate themselves by personalizing the software with contextual information such as location.
That is no trivial task, requiring companies to continually refine their machine-learning and natural language processing algorithms – the key ingredients that let bots assimilate human conversation – to ensure that they become more valuable to the user, says Avinash Rao, global business head of consultancy Wipro Digital. "The biggest challenge in building an effective bot is to solve the issue of personalization," Rao says. "The bot has to know and understand you (who you are and what you want) in order to process and retrieve things."
Bots push HR info, sales leads to workers
ADP is building bots that automate HR tasks such as sending a job to a prospective hire to alerting employees to use their accrued vacation time, says Roberto Masiero, vice president of ADP Innovation Labs. He says bots will alter the workflow of enterprise software from the dreaded "pull mode," where you scour your HR apps for information, to a "push mode," delivering relevant information at the right time.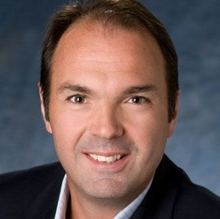 Roberto Masiero, vice president of ADP Innovation Labs.
One example is the onboarding process, where an HR generalist typically points new employees to an HR portal and helps them find required forms to fill out and submit them online. A chatbot might send a message to a new employee that includes links to the required forms. Masiero says that ADP's anthropologists are working on the "personality" of the bot, while the product managers are figuring out where the software will be hosted and secured.
However the tools manifest in ADP's HR software, Masiero is certain that they will be a fixture in corporate software in the near future. "It's just natural that enterprise systems present themselves on that channel because that is the channel of choice," Masiero says. He says ADP is eight months from putting out an early version of its bots, while a fully functional, self-service version is 18 months out.
Tony Velleca, CIO of IT service provider UST Global, is building a system that integrates bot-based messaging with the enterprise sales process. He expects chatbots will remind employees to enter data about leads and to follow up with clients after meetings and sales calls. Eventually, he'd like to integrate employees' travel schedules and expenses to automate the entire sales system. "It changes the whole paradigm and has a huge impact on how you manage the sales process," Velleca says.
Velleca has been testing Kore, a bot-based messaging platform designed for businesses, among a marketing team comprised of recent college graduates. He says the bot-oriented software appeals to millennial generation and younger employees accustomed to using SnapChat, WhatsApp and other messaging tools. UST Global connected Kore to Salesforce.com, enabling the marketing team to generate leads.
"The opportunity with bots is to make them work like assistants so people will want to use them," Velleca says.