Get insight into the user experience by correlating wired and wireless data
Technology advances take IT Operations Analytics to the next level.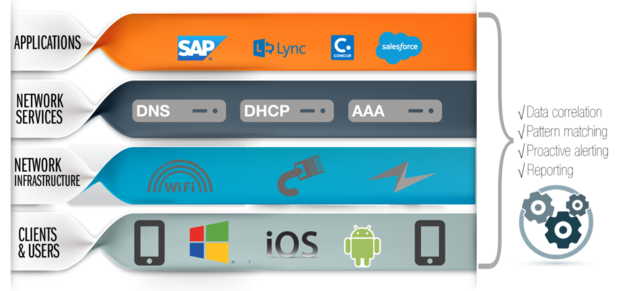 Figure: Analytics and Cross-Stack Correlation in Next Gen ITOA Systems
Until recently, each IT operations team had their own set of responsibilities and tools. This often results in finger pointing among groups and vendors when performance problems crop up.
While emerging ITOA technologies are a good start at gathering raw wired network data, they don't analyze data from the perspective of an enterprise end user all the way up the network/application stack, or automatically summarize the data into something that can be used by IT staff that don't have the time or expertise to comprehend. What's more, the network analytics must meld the analysis of wireless data with wired data, with a combination of domain knowledge as well as data science to produce root-cause determinations with "next steps" to solve any problems.
This means understanding concepts such as wireless signal strength, channel utilization and interference, all of which are essential in tuning today's mobile enterprise networks, and then marrying this information with client device types and operating systems, response times of protocols such as DNS and DHCP, as well as application performance measures such as web page load times and MOS scores. Additionally, it means surfacing problems, especially client issues seen at one or more customer environments, to all "similar" customer environments. The former requires domain knowledge, while the latter requires data science.
Many new IOTA systems also require on-site appliances or discrete sensors to gather and index data, and don't provide any predictive, historical or location-based trend analysis that is critical for IT operations staff to find problems and resolve them faster. For most of today's ITOA systems, data collection is completely divorced from the data analysis. Equipment vendors make their SNMP MIBs or system logs available but this data is not collected or formatted with analytics in mind. In other words, more work is involved to make sense of it all.
What's really missing is the prioritization, and plain English summarization of all of this information rather than these tools becoming yet another information fire hose.
All of this information needs to be collectively correlated to give IT staff a more complete view of a single client, a top-level view across all of the clients in an enterprise, and a view of problems and trends among similar environments. This correlation results in usable, easy to understand insight for all levels of the IT department. The inter-relationship between data collection and data analysis is vitally important.
It is difficult, if not impossible, to do this in a single box, whether a physical appliance or a virtual machine. Therefore there's an increased importance on a solution architecture (see figure below) that centralizes the collection and storage of large amounts of data, and analyze this information with data analytics platforms specifically designed for this purpose.