Get insight into the user experience by correlating wired and wireless data
Technology advances take IT Operations Analytics to the next level.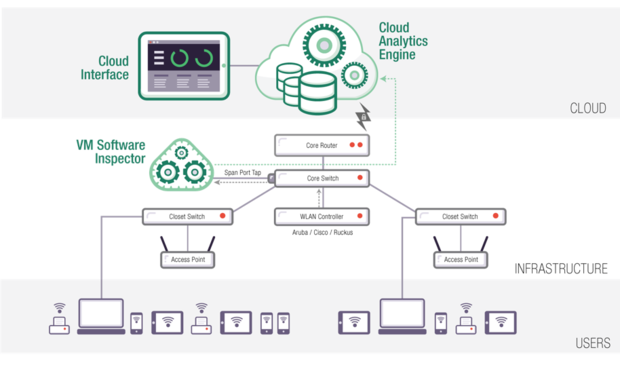 Figure: Software sitting off a span or mirrored switch port, inspects and correlates all packets off the wire fusing them with metrics from WLAN controllers across the entire network applications stack, securely sending summaries to a cloud-based analytics engine that translates them into understandable English for IT staff.
Next Gen ITOA and Cloud-Sourcing
Next gen cloud-based ITOA solutions typically utilize newer, horizontally scalable technologies for storage and analysis. For example, they use time-series NoSQL databases such as Apache Cassandra, as well as big data analytics platforms such as Apache Spark. Moreover, the entire system is also managed from the cloud, so the component of the solution that extracts data from enterprise environments can be altered whenever necessarily so that it collects the right data to fulfill the overall use case.
Armed with a complete view of what's going on in the network, engineers can quickly see root cause analysis for individual clients or client groups and better predict what will happen as the application environment constantly changes. Moreover, IT staff now have a clearer picture of network performance over time that allows them to better plan for network capacity changes that might be needed.
What's more, using big data techniques within the cloud for network infrastructure data and trending opens the door to something never possible before called "cloud sourcing."
Cloud sourcing is the ability to securely share and compare infrastructure and client analytics metrics as well as key performance indicators between different organizations in a completely anonomized manner. This allows organizations to gain a deeper understanding of network operation best practices and predictive insights into the user experience. Cloud-sourcing also lets network engineers know definitively if a change made to the infrastructure was effective or not with real data to back it up.
Imagine the ability to know if a new version of Android or IOS or new wireless LAN code isn't behaving well with other network services or is negatively affecting the user experience. Cloud sourcing now makes this possible, enabling new levels of insight into best practices, potential problems and infrastructure rends that are occurring in real-time everywhere. Now companies can immediately observe the potential impact of any changes to the network as well as where, why and what is working in similar environments.
The emergence of new IT analytics technology, leveraging cross-stack correlation for both wired and wireless data, can now automatically characterize network issues related to clients, wired services, wireless connectivity and even application behavior. This promises to radically transform the ability for overwhelmed IT staff to keep users happy and the network humming.
Previous Page 1 2 3