Google preps a new travel app to launch in beta this week
Members of Google's Local Guides program will be the first to get their hands on a test version.
Google will soon launch a new app that aims to serve as your new travel assistant.
An email went out to those at Level 2 or above in Google's Local Guides program with an offer to answer a few survey questions in exchange for a shot at a demo version of the app for Android and iPhone.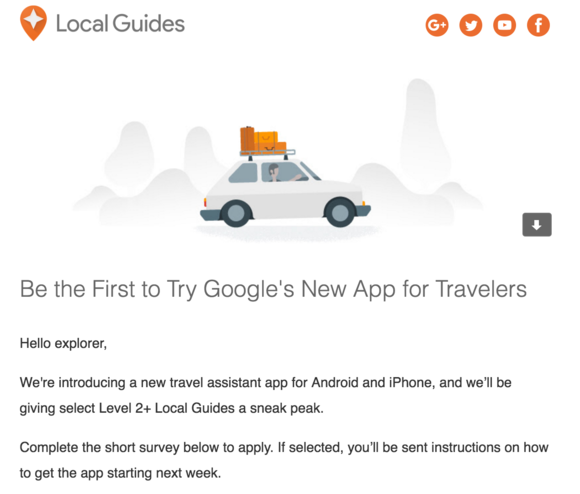 This may be in your inbox if you're at least a level 2 with Google's Local Guides program.
Level 2 is pretty easy to reach, as you only need five points that can be quickly earned with a few reviews or photos added in to Google Maps. If you want to try and score the app, maybe it's time to bump up your reviews and then keep an eye on your inbox.
Why this matters: Google already dabbles in travel with its Google Now cards and recently-launched Google Destinations. But the company does even more in the travel space, with a low-key Google Flights service and and easy links to catch a ride inside of Google Maps. The company may be planning a more aggressive push into travel, as organizing lots of data and other details is certainly Google's specialty. We'll keep you posted as to how this turns out.