Google's Android boss announces SDK specifically geared toward wearables
Google's Sundar Pichai said the company is focused on helping devices work together across all categories.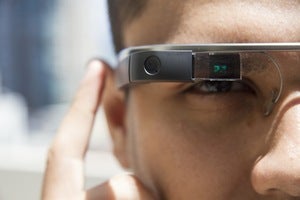 Will Glass soon have a stablemate in Google's wearables line-up? Pichai wasn't telling.
AUSTIN--Google wants to provide a framework for wearables the same way it has for smartphones and tablets. During a talk at South by Southwest on Sunday, Android head Sundar Pichai said an Android SDK for wearables is coming down the pipeline in two weeks, and will give developers the tools they need to make Android-based smartwatches and fitness trackers.
Pichai said Google thinks of wearables in terms of sensors that need to communicate to be helpful for users. "We want to build an API so these sensors can work together," he said.
Watches and activity trackers are the most obvious wearable categories that developers can begin working on, but Pichai said Google wants to offer an Android framework that goes far beyond traditional form factors.
"When we say wearables, we think about it as a much broader conception," he said. "[But] that's for partners and developers to figure out. We are thinking about it as software... a jacket one day with sensors. I don't know."
The wearables SDK follows on the heels of the Android for cars initiative that Google announced at CES earlier this year. The two are related, Pichai said, because Google thinks in terms of a unified software ecosystem. That extends to its new acquisition Nest, too.
"We see an ecosystem for all these devices," Pichai said. "We want to develop a set of common protocols so they all work together."
Of course, by releasing an SDK in short order, Google creates an essential feedback loop. In essence, third-party developers can seed Google with helpful data before the company announces any home-brewed wearables of its own.
And you can breathe a sigh of relief, Google+ haters: No Google+ account will be required for your new Android-based wearables to function.
A plethora of possibilities
Will we see Google-branded wearables? Maybe. Pichai said Google has ventured into phone and tablet manufacturing to show partners like Samsung how the ideal device marries hardware and software. But Pichai also said Google doesn't want OEMs to think Google is giving itself an unfair advantage.
"What makes a platform successful is having the discipline to make sure that everything Google can do on top of a platform is something that other people can do as well," he said.
Pichai extolled the virtues of Android's open nature and pointed to Nokia and Amazon's Android devices as examples of how companies can build on top of the platform without baking in Google's own services--though that's also an option. Hardware manufacturers can twist and mold the operating system to the extent that users don't even realize they have an Android device.