Group hug: The future of Microsoft Office is shared and social
Productivity should be a shared experience, apparently, and now the vaunted Office suite wants to integrate your social circles into all your spreadsheets, Word docs, and presentation decks.
Is Microsoft Dynamics the next candidate for Office?
Eventually, though, the line Microsoft is drawing outward from the organization looks like it will intersect with LinkedIn. Oslo could well evolve into an improved relationship manager, either as an internal tool or one for interacting with customers and partners.
Interestingly, Microsoft recently posted a testimonial from Trek talking about how the bike company developed a custom solution using SharePoint, Yammer, and Microsoft's own Dynamics customer relationship manager (CRM) tool. While Microsoft probably isn't going to pull in Dynamics into its Office suite, we could see elements of it appear in the future, extending Oslo's showcase of "whom you know" to suggesting "whom you should know".
More data, please
"If you're like me, you can find yourself data-rich but very knowledge-poor," Jared Spataro, a general manager of product marketing for Office, said during the Sharepoint conference this week. More data, please, is essentially the mission statement for the so-called business intelligence industry, which has provided an alternative to the statisticians and Big Data scientists that large corporations have employed. We call it "context," and that can mean anything from showing relevant information alongside an Outlook email to crafting your own "Cortana" knowledge engine for Windows Phone.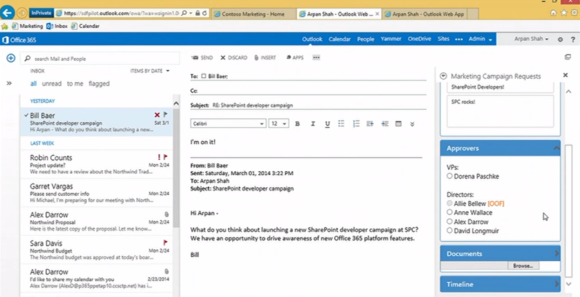 A future version of Outlook apparently will add a social, collaborative window to the right.
What Microsoft is trying to do, however, contrasts sharply with what other office suites are doing, even Google Apps. Yes, Google pioneered real-time collaborative elements. But most productivity apps simply facilitate document creation. It's up to you to figure out what to do with it.
There's one underlying truth, however: The less data you provide, the less effectively the tools will work. In Office's case, it's enriched by the collective data that you and your coworkers contribute. That's the "network" effect that Teper is talking about, and a step beyond what most of these other digital assistants are asking for.
It's too early to tell whether this will be the right approach. Oslo could simply boil down to a pretty search engine for figuring out where that critical PowerPoint presentation is hiding. The Office Graph could end up being little more than a list of suggested colleagues who should receive your presentation. The wisdom of crowds isn't necessarily right. We all know what data-driven approaches have produced in my business, journalism: listicles, cat pictures, and me-too followups.
Over time, however, context-driven, social decisionmaking is going to trickle down to the average worker. Maybe it will work, maybe it won't. But that's the direction next-gen office productivity tools are heading. How to manage them effectively is going to be our challenge.