Hands on: Corel graces Painter X3 with new visual, brush, and painting features
There's image editing and then there's fine art--and Corel has always positioned Painter, its flagship professional painting program, on the creative end of the spectrum. With the release of Painter X3 (the 13th version of the famed natural-media software) for Mac and Windows, Corel seeks to augment Painter's position as a leading inspirational tool for creatives working in photographic and traditional art, illustration, Manga and comic art, conceptual art, and design. Even though it emerged roughly around the same time as its image-editing contemporary, Adobe Photoshop, Painter holds a unique place in the art world for its drawing and painting prowess.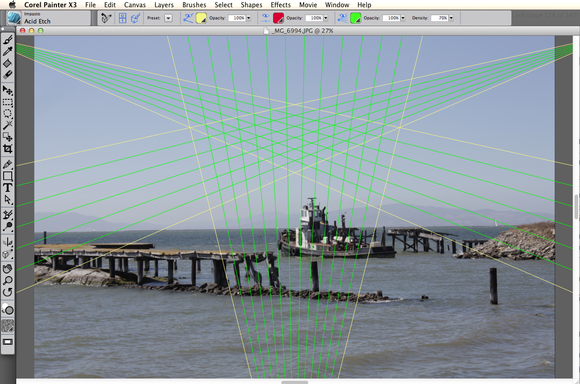 Perspective Guide presets include one, two, or three vanishing points that help set the direction of the perspective.
Painting assistance
Painter X3 offers enhanced cloning assistance. With crosshair cloning, you not only get to clone from an original source image and view your strokes from the crosshair reference point, you can actually change the source image and continue to clone in real time from the edited version, or switch back and forth between the original and the edited source image for cloning.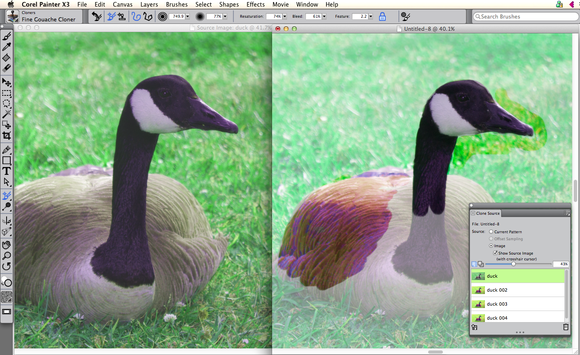 This Canadian Goose was not born with psychedelic feathers, but Corel's enhanced cloning technique lets you switch back and forth between the source and the cloned image, clone variations to the source image on the fly, and choose which version to clone.
New Perspective Guides allow you to accurately draw in one-, two-, or three-point perspective using preset guides. Perspective-Guided Strokes constrain strokes by snapping them toward the vanishing points set by the artist. This function replaces the old Perspective Grid feature.
The Reference Image panel lets you open an image so that it appears inset in the image you're currently working in; that way, you can keep it in sight without having to toggle between two windows. You can zoom, pan, and sample colors from the reference image while maintaining focus on your current painting. You can now apply a transformation to a selection across multiple layers.
Inspirational Mixer Pads lets you sample, choose, and mix colors from a collection of original mixer pads created by expert Painter artists.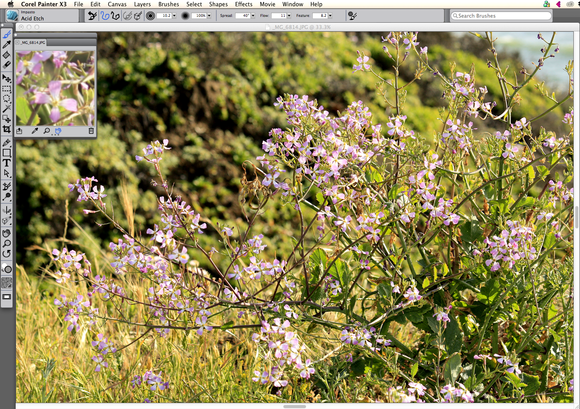 Reference images let you see an inset of your main picture as you paint on a larger main image.
Flow Maps are designed to mimic the way that real-life watercolor and oil brushes apply paint across a literal canvas or other nonflat surface--producing less saturation at the peaks of the surface's texture and more saturation in the valleys.
In a free update coming soon, Painter X3 will introduce motion gestures with Painter Freestyle Gesture Control so that you can use your touchpad or Wacom tablet and fingers to control your painting.
Painter Jam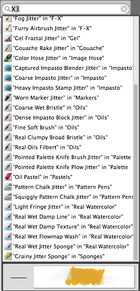 The new Brush Search Engine lets you choose which brushes to look for.
With this release, Corel is initiating more interaction with Painter artists via online Paint Jam sessions, giving users the opportunity to learn from Painter Masters. Each month, the Paint Jam sessions will focus on a different style of art, hosted by professional artists who share their processes and techniques. The first series, hosted by Jeremy Sutton, Claudia Salguero, and Heather Michelle, will take place on August 14 from 3 p.m. to 4:00 p.m. Eastern Standard Time and will focus on fine-art photos.