Hands-on: Paint 3D Preview remixes Paint for the HoloLens generation
Tying 3D art to community creators is a smart idea.
Let's paint in 3D!
But wait, there's more—there's a third way to create 3D objects.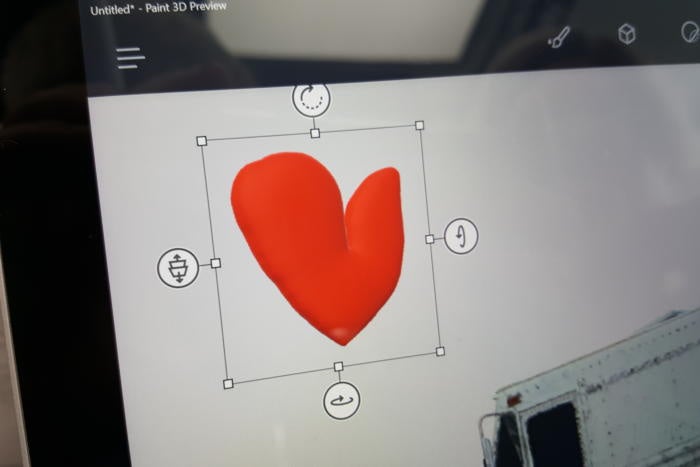 Doodle a 2D shape, and you can "puff" it out to a 3D object.
Paint 3D allows you to doodle a 2D object, and then puff it up to 3D. Think of a 2D shape, and then something like a identical throw pillow stuffed with 3D goodness. The resulting object can be uniformly deformed, but I didn't see an option to lasso a point or region and yank it into a new shape. It's actually kind of neat, though some 2D objects don't necessarily translate that well into 3D.
In general, Paint 3D looked quite polished for a preview app. One glitch I noticed deals with 3D text, the fourth option along the icon bar along the top. Text appears in a classic Paint window. But when I tried to type in virtual text, the letters were invisible until I clicked outside the window, which makes it relatively useless for editing.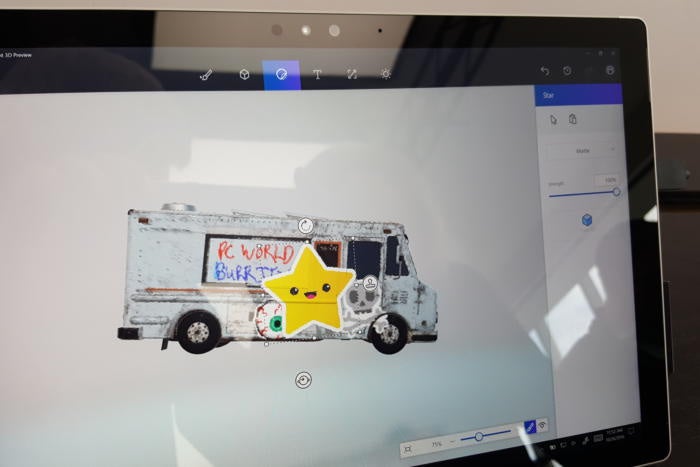 Go ahead and apply stickers to your creation, which will mold themselves to your 3D object when you "stamp" them on.
You'll also notice that objects appear in a virtual room, like a diorama. The borders of the room aren't sharply defined, allowing effects like "burying" an object partway into the floor—that's a feature, not a bug. By defining an object in 3D space behind another, you can also set up occlusion and other 3D effects.
With the 3D content creation out of the way, the other options are to decorate your objects. You can color them, of course, or apply a short list of custom stickers. The final option controls how your virtual objects are lit: You can control the background color and the direction of the lighting, though I didn't see a control to change the colors of the virtual lighting itself.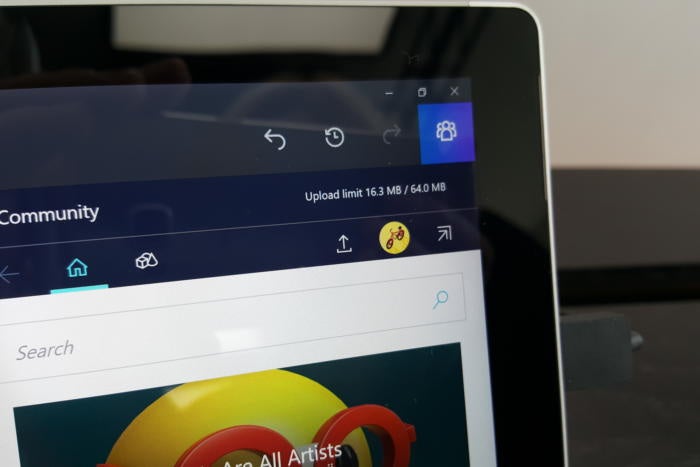 Share objects when you're done. Note that there's a limit to how large that single object can be in terms of file size.
When you're done, way up in the upper right-hand corner is the Share charm, which allows you to publish your work to Facebook, Remix3D, or other social media. Feel free to add tags, a description, and the like. Eventually, you'll be able to view your creations as HoloLens holograms, though without a handy HoloLens.
In my mind, Microsoft made a smart move tying community creations to Paint 3D. Doing so preserves the wonder of it all without a great deal of effort. And that's the whole point.