Hands-on with Spotlight in El Capitan: Location info, natural language searches, UI tweaks, and more
A look at the tweaks to the built-in search engine in OS X 10.11.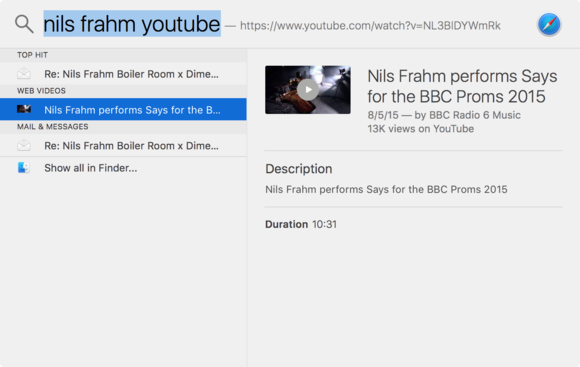 You can find web videos with Spotlight, but not many.
Resizing; finally
One of the biggest changes to Spotlight in El Capitan is the ability to resize the window. (That deserves a big "finally.") Drag from the bottom to see more in Spotlight, but you can't make this window smaller than the default size you see when you first launch Spotlight, nor can you make the window wider. Once you've resized the window, it stays at that size as long as you don't change it back.
You can also move the search box around on the screen. If you'd rather it display on one side of your screen, or higher or lower than where it displays, just click on it and move it.
Spotlight has languished for several years, with only minor improvements. El Capitan brings some much-needed freshness to the feature, but we can still hope for Siri to be incorporated into Spotlight some time soon...