Here's how the MacBook Pro stacks up against the PC
Surprise: The PC is still well ahead of the MacBook
Yawning over the MacBook Pro 13
Of all the new laptops, the MacBook Pro 15's performance is most interesting. The MacBook Pro 13, by contrast, is a total yawner.
Like previous generations, Apple relies on the faster Iris graphics-based Skylake chips. It doesn't say what the specific parts are inside but it isn't hard to isolate it to the dual-core Core i5-6360U and the dual-core Core i5-6267U. Here are the two CPUs in detail on Intel's ARK.
I say these are yawners because they deliver basically the same performance we've seen from PC laptops for the better part of a year now. The new MacBook Pro 13 should offer decent CPU performance that, in general, should be slightly better than the vast majority of PC Ultrabooks based on Skylake CPUs. That's to be expected, as the MacBook Pro 13's using the Core i5-6267U, a 28-watt CPU, vs. the 15-watt chips in most PC Ultrabooks.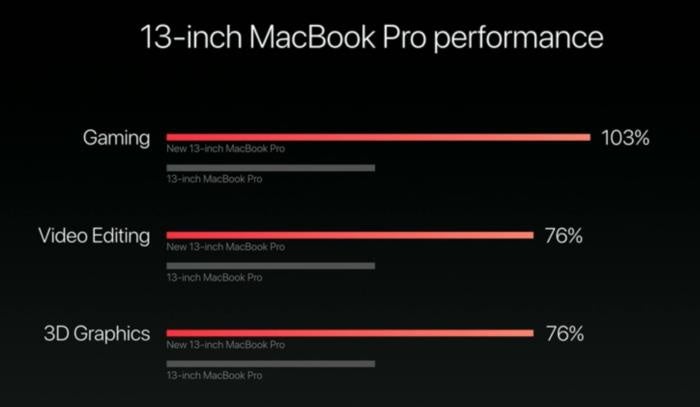 The new MacBook Pro 13 gets a nice boost from Iris 550 graphics—when compared to itself.
Here's what happens when you put them against the 7th-gen Kaby Lake Ultrabooks. Kaby Lake is basically an improved version of Skylake that runs at higher frequencies. It can do so for longer than Skylake, and it generally gives you about 10 percent more performance.
I'm going to guess the MacBook Pro 13 might just about break even with some Kaby Lake laptops. The chart below includes an Iris 540 Core i7 Skylake CPU, which is actually slower than the Core i5 Kaby Lake in Cinebench R15 but that's because it's the 15-watt version of the chip.
With the MacBook Pro 13's higher wattage, it might exceed the Kaby Lake-based Dell XPS 13 you see here—or it might just break even. What I do know is it won't be leaps and bounds ahead of the typical PC Ultrabook with a Kaby Lake CPU. The math just doesn't add up for that.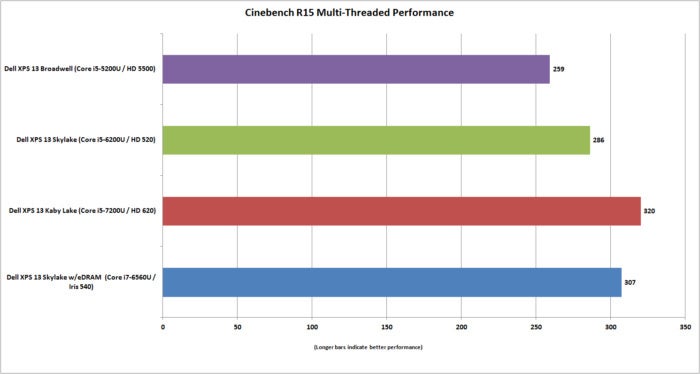 The 6th gen-based Skylake MacBook Pro 13 might break even with 7th gen-based Ultrabooks.
One area where the MacBook Pro 13 should have a nice leg up is in graphics performance. In the chart below, you can see the Iris 540 outpaces even the newer 7th gen.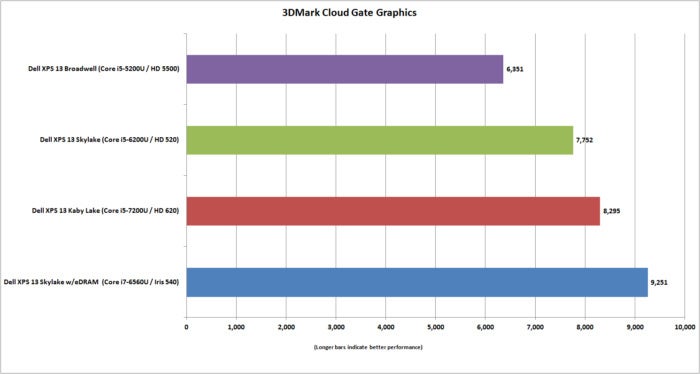 In graphics performance the MacBook Pro 13 should exceed the typical Ultrabook.
Whether the MacBook Pro 13 prevails depends on what you think compares to the MacBook Pro 13. Microsoft certainly thinks its Surface Book i7 plays agains the 13-inch MacBook Pro. In fact, Microsoft specifically called out the old MacBook Pro 13 with its new Surface Book i7 announcement Wednesday, saying it would be "three times" faster than the old MacBook Pro 13.
Previous Page 1 2 3 4 Next Page