How Minecraft unlocks creativity and collaboration in classrooms
Microsoft's smash sandbox is expanding to more schools, and teachers claim real benefits.
"The kids blow me away all the time," adds Isaacs. "The beauty is, when I ask them to explain it to me, it's because I truly don't understand and want them to explain what they did. I didn't used to have that experience all that often in teaching."
Endless possibilities
Miller's medieval simulation is one example in a growing stockpile of community-shared lessons, examples, blog posts, and video tutorials. Students can learn about weakened biodiversity, for example, as animals are removed from the ecosystem, or see the effects of climate change while practicing sustainable living and business practices. Minecraft can help kids grasp how fractions factor into everyday life, and let them craft elaborate Rube Goldberg physics machines not bound by classroom size or physical materials.
It's not just limited to STEM (science, technology, engineering, and math) subjects, either—even the arts benefit from Minecraft. Students can use pixel art to learn about the work of American painter Chuck Close, or recreate the style of Brutalist architecture, based on an example from the Royal Institute of British Architects and BlockWorks. Even poetry has a place: Miller designed a Minecraft lesson for a unit on Japanese poetry, tasking students with creating a visualized walkthrough of their own writing. Teachers can use these examples as a starting point, and modify or create lessons as needed.
Middle school seems like a sweet spot for Minecraft between age level and content complexity, but older and younger students use it too. In the Lufkin Independent School District in Lufkin, Texas, high-school networking students learn how to manage Minecraft servers and modified content. Meanwhile, first and second-graders build to stimulate their own writing.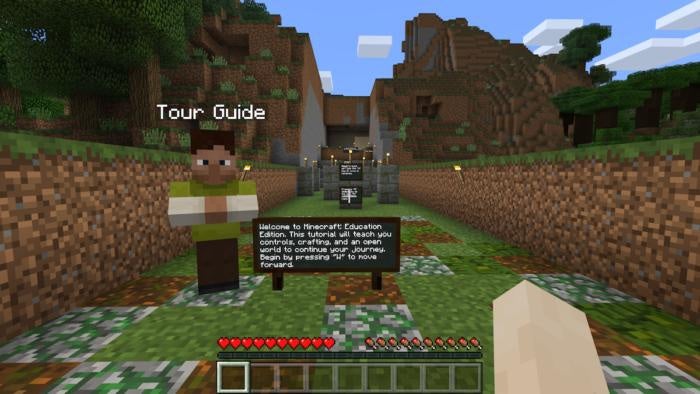 The Education Edition has a detailed tutorial that imparts the basics, but many teachers might need it more than the kids.
"This is an activity that we've traditionally done with physical blocks, but Minecraft offers not only a much cleaner solution but a more creative one—especially when kids include moving parts," says Rafranz Davis, Lufkin's Executive Director of Professional and Digital Learning. Lufkin is licensing the Education Edition for every student in her district, and they can access the game from home, as well (that's optional; don't anticipate Minecraft homework).
"What sold me on Minecraft was that it gave me a blank space. I can build whatever I want in that space, and if I want to learn how to build something else, then I can go research it and learn how to build it," Davis explains. "The research and detail that it takes for the basic aspect of building—it really engages [students] to look at details that they maybe wouldn't see otherwise."
Previous Page 1 2 3 4 Next Page