How to create powerful presentations with Adobe Spark Video
A new update to Adobe's free social presentation web/mobile app now lets you directly integrate video clips.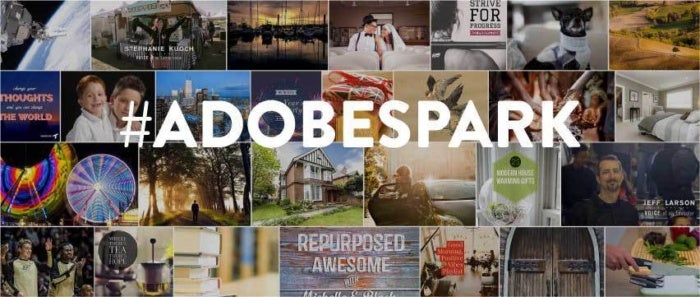 With the brand new version of Spark Video, Adobe continues to lure consumers into photographer and designer territory via its creative mobile and web apps. The Spark collection, featuring the newly updated Spark Video, is targeted not to the advanced Photoshop/Lightroom crowd, but to just plain folks—kids, teachers, neighbors, community activists, and small businesses who have something to say.
Spark Video (which began life as Adobe Voice, and earlier this year acquired its current branding, provides the tools to create a sophisticated social media presence complete with presentation prowess for those without an art degree, a pocketful of cash, or time on their hands.
Adobe has updated Spark Video for the web, iPhone, and iPad by adding a video component. Previously, the app let you use a mixture of voice recordings, photos and icons, and a soundtrack to quickly create an inspiring, template-based animated presentation with a combination of your own assets and some help from online royalty free sources.
If you're intent on creating marketing videos, school projects, product demos, event invites, business or team reports, or just plain storytelling, here's how to do it with the video-enhanced latest version.
Before you begin, sign in with your free Adobe ID or log in using a Facebook or Google account. This lets Adobe publish and host your presentations, so you can easily access and share them. I used an iPad in this demo, but operations are similar on the iPhone and with the online app.
1. Choose a story template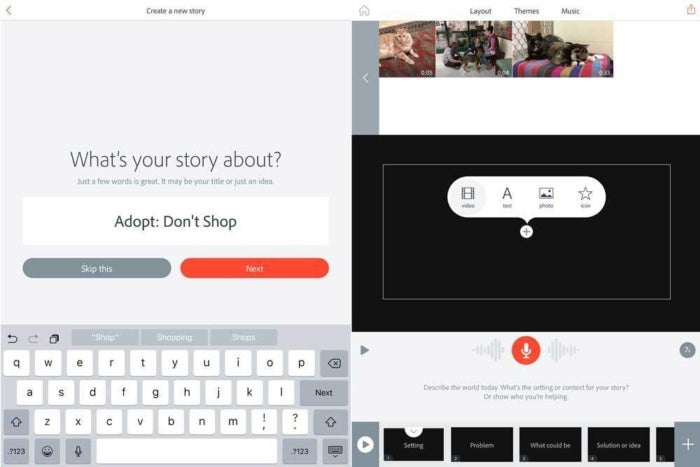 Either pick a story template or start from scratch. Story templates get beginners started with a major concept: Promote an Idea, Tell What Happened, Personal Growth, An Invitation, and more. If you're just getting started, using a template is optimal.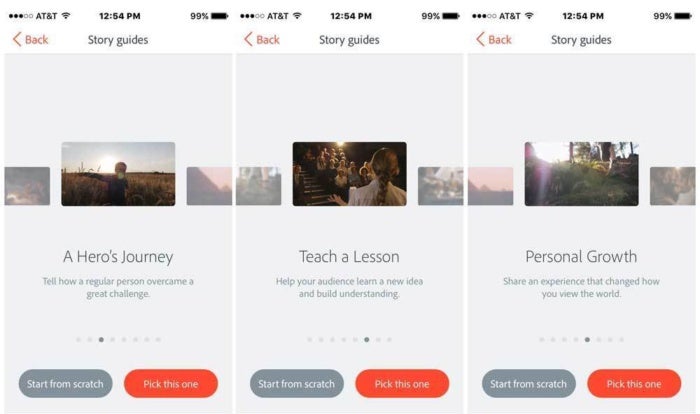 2. Add photos and video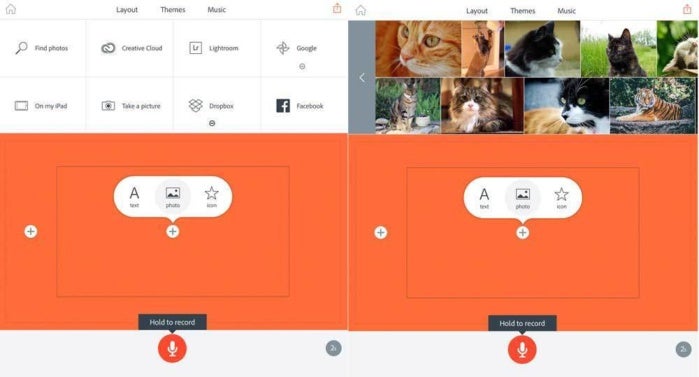 You can use photos that are already on your device, or select them from Google Photos, Dropbox, Facebook, Lightroom, or your Creative Cloud space. You can also use Spark Video's search feature to find Creative Commons licensed photos and icons online. If you are creating your project on an iPhone or iPad, videos must be present on your device.
3. Add voice narration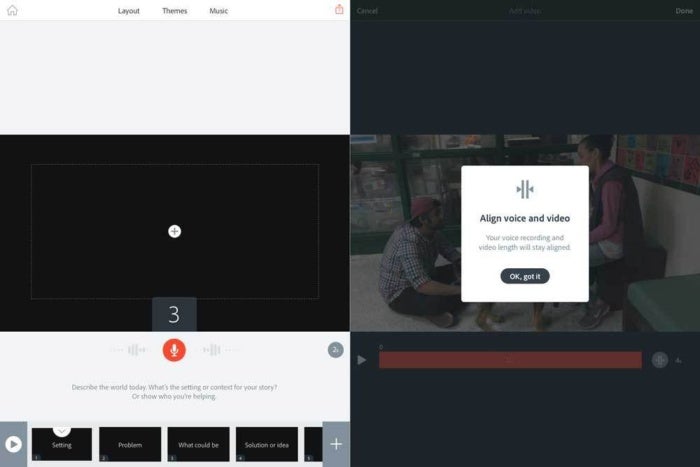 Adobe Spark Video makes it easy to add voiceovers to each slide. Just press and hold the microphone button. Speak clearly and make sure your mic is clear from obstruction and that the room has a minimum of distracting noise. You can easily re-record any slide if you're not satisfied with the sound quality. Just navigate to the slide and record it again—the new recording will automatically replace the old one.