How to make a photo journal in iPhoto
Use iPhoto's book-creation templates to combine your photographs with journal-length text descriptions.
Personalized photo journals make a great Mother's Day gift! Order yours by May 1st from Apple to ensure deliver before May 8th.
With iPhoto's book-creation tools, you can easily combine the best elements of photo albums, written diaries, and scrapbooks to create compelling and personal photo journals. Unlike a regular photo book or album, a photo journal takes your photographs and uses them to tell a story. The images are typically organized chronologically and combined with large amounts of text to create an extensive and coherent narrative.
These journals can be a history of a period of time in your life, or they can get creative. You can document all your meals for a month, take a snapshot every day for a year, or create a record of your child's first months in the world.
Step 1: Gather your best photos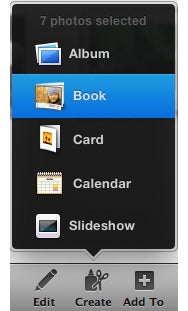 Select an Album, Event, or handpick the images you want and create a book. You can add more images to the book at any time.
If the images you want to use are all part of one event or album, starting a book is as easy as selecting the collection, clicking Create, and selecting Book. If your photos are scattered, switch to the main Photos view and select the images you want by holding down the Command key and clicking thumbnails. Press Command-N to create a new album from the selected shots. Alternatively, you can create the book first and then drag photos into the project.
When choosing your images, don't just use the pretty pictures—look for shots that have a story behind them. You can mix in scans of ticket stubs or other ephemera to give your book a scrapbook feel.
If you've edited some photos, apply the same adjustments to similar photos when possible to maintain a coherent style throughout. To do this, enter the Edit screen for your first image, select the Adjust tab, and make your changes. Now hold the Control key and click on your image, then select Copy Adjustments. Move to other shots and select Paste Adjustments to apply edits.
All the photos you add to a book will be available in the book's Photos panel as you are designing. You can move images around, zoom in or out on images, or double-click to open one in the image editor at any point during the process.
Step 2: Customize page layouts
Picking the right book theme is key when creating a photo journal. The available page layouts differ with each theme, and you'll need options that allow for adding a lot of text. We recommend Photo Essay, or one of the Travel themes. (The Journal theme, oddly, doesn't have many text-heavy options.) Do not change themes after starting a photo journal, because you may lose your text.