How to make a photo journal in iPhoto
Use iPhoto's book-creation templates to combine your photographs with journal-length text descriptions.
Once you pick a theme, click create to start editing it. iPhoto will make its best guess about how to flow your selected images, but you can reorder them. Go through and change individual page layouts to get the right balance of photos and text. Click the outline of a page, double click to zoom in, and then click the layout button that appears above it. You can also click the Design button in the bottom right corner of iPhoto to bring up the Design panel and select your layouts there.
Choose the number of photos you want on the page from the drop-down menu, and select one of the resulting layout options. If it appears, make sure the Include Text box is checked so that your options include page designs with text elements. Since text is such a key element for a photo journal, you can make a page that's just a giant text box. Select Text Page at the bottom of the drop-down menu to add these periodic text-only pages throughout the book.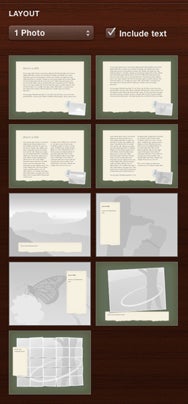 If the Include Text check-box appears in the Design panel, make sure it is checked.
Step 3: Format text
When you're ready to add words, decide on a font, text size, and text color for the book. Though selecting text brings up a pop-up menu with a few text features, you should click the Design button for the full list of font options. Choose your font attributes from the menus. When you're satisfied with the look of your text, click the Change Everywhere button to apply the same style to every text box in your book. By default, iPhoto will only list the fonts it recommends for your book template. To see the full list of possible fonts, uncheck the Show Suggested Fonts box.
For a more casual and personal feel, look at script fonts such as Bradley Hand and Papyrus. For a professional look, fonts like Georgia and Helvetica will work best for text.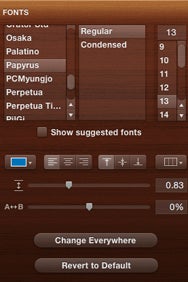 To see more fonts, uncheck the Show Selected Fonts box in the Design panel.
Step 4: Add the narrative
Make your book a real page turner by including the story behind a photo instead of just describing what it shows. If your book is chronological, you can begin each block of text with a dateline. Other options might include a location or descripive name for each page, spread, or section. If you do decide on a title, keep the format consistent throught the book. Also, look for layouts that already include a spot for a title, though you can create your own by increasing the font size and making text bold.