How to make a photo journal in iPhoto
Use iPhoto's book-creation templates to combine your photographs with journal-length text descriptions.
Step 5: Include a little something extra
Image effects can be added to images to illustrate a story. For example, you could add a sepia effect to one image and then boost the color of the image next to it to suggest before and after.
Another great way to make a photo journal engaging is to add a map page from the layout menu. There are seven map styles to choose from, and you can even plot locations to point out where photos were taken.
If you have text-only pages but want to make them more interesting, you can make the background an image. Go to either the Background drop-down menu or the menu in the Design pane, and instead of selecting a background color, click on the last square, which shows a gray drawing of a bridge. Whatever image you now drag onto the page will become the background image. You can adjust the exposure of the image so that it doesn't overwhelm the text on top of it.
Another fun design option is to add a Spread layout, which displays one image across two pages. By selecting Include Text, you can even add a small amount of text to the page.
Step 6: Order your book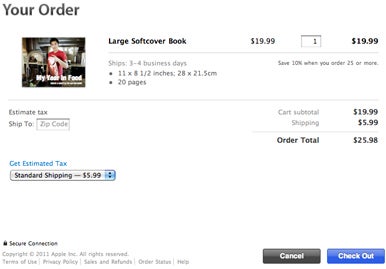 When it comes to printing your book, you can't go wrong with Apple's printing service, which is geared toward the best results for its own templates. Once you have completed your book, click the Buy Book button to see the details and price for your book. If you are happy, you can then pay and upload your book to Apple's servers for printing with the finished product delivered to your home or to another recipient.
If you prefer to print the book yourself, however, or send it to an alternate service you can export your book layout as a PDF. Go to File -> Print or press Command-P, click the PDF drop down menu and select Save as PDF, and save the file. You are now free to print your book or upload it to any service you like including those we've listed below.
There are many online book printing services available that will accept a PDF, such as Blurb.com. Most sites will provide a checklist for you to follow to make sure your book prints correctly. You can order in bulk and even sell your book online if you wish. Blurb also offers its own BookSmart software that works with your iPhoto library and allows you to copy photos from iPhoto without affecting the original image.