How to make your Android phone work more closely with your PC or Mac
With the right tools you can leave your phone on the desk more often when you're working or playing on a PC.
If you think about it, the computer you use the most during the day is your smartphone. But you still probably have a Mac, PC, or maybe even a Chromebook that does the heavy lifting when it comes to tasks like documents, spreadsheet, image editing, and email.
This makes it all the more annoying when you have to stop what you're doing to pick up your phone, whether it's to answer a text or transfer over a file. Especially since those who live in the Apple ecosystem have Continuity, which allows you to sync iMessages, open a web link with one click, and take phone calls with a paired iPhone and Mac.
No such tool from Google exists. However, there are others that might help you leave that phone on the desk more often. Which tools is best for you depends on what you're after, and how much you're willing to pay. But there's a decent spread on the table, and you may want to sample each one before you decide on a full helping.
Pushbullet delivers the whole package, for a price
If you want to deeply tie your phone to your computer, then Pushbullet is the most complete alternative. That's because it does far more than just replicate notifications: you can share links and files among devices, take action on messages, and even keep tabs on topics that interest you.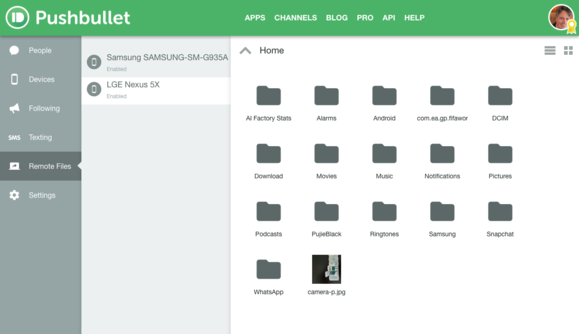 Pushbullet offers access to your file system among other different tricks.
Though the two most useful features, universal copy/paste and "priority" customer support, will cost you $5 per month or $40 per year. They work well and can certainly keep you from the need to pick up your phone all the time. The cost may be sensible enough, but Pushbullet stumbled a bit when rolling these out because it took some features that were previously fee and moved them to a paid tier. Goodwill is hard to earn, and the company has tried to win it back after acknowledging the missteps.
That aside, I find Pushbullet to be the top option if you want maximum control over what your phone can do. The file exchange is especially helpful as you can navigate Android's file system and dig out something that may have been buried. There's also a dedicated desktop app for Windows and a Chrome extension (which I prefer as part of my suite of lightweight tools) to keep you connected.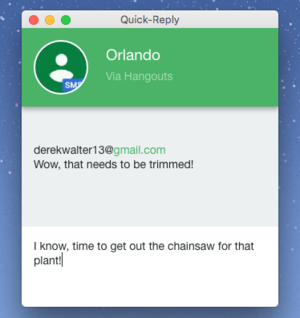 A quick reply method lets you fire off a message with Pushbullet.
If you don't need the extra features, the free level might be enough. Or you could try it out for $5 for one month to see if it's necessary for you. To me the only drawback to Pushbullet is a lot of notifications and ability to reply to messages duplicates some of what I already use: Gmail, Facebook Messenger, Hangouts, and other services already push out through Chrome, and clicking on the notification takes you to the right app. But for now the extras are worth it for me, and they might be right for you if you want a deeper hook into your phone.