How to make your Android phone work more closely with your PC or Mac
With the right tools you can leave your phone on the desk more often when you're working or playing on a PC.
AirDroid is lightweight, but helpful
Another service that I've used off and on in the past and got to know again for this piece is AirDroid. It's another one I like, particularly in how well you can glance at a notification and keep going or take more control over some specific functions on your device. AirDroid also treats your phone more like a PC, with full visibility over the file system and the ability to delete apps, take a screenshot, ping its location, and perform other remote work.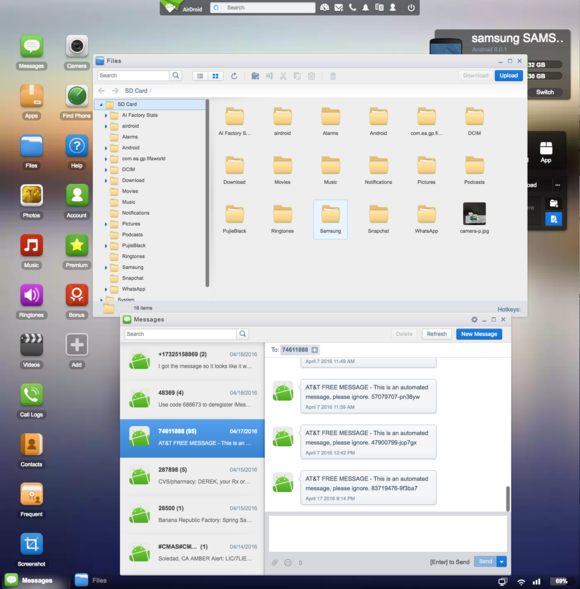 AirDroid makes your Android device feel like a computer with access to just about any file you might need.
You have to agree to grant these permissions with the new model in Marshmallow, but once you do that you're well on your way. Unlimited file transfer, multiple device support, folder transfer, and other tricks are all part of the $20 a year package.
The interface could use some work, particularly a few of the iOS-inspired icons. But if you want a tool that can perform several specific phone functions, you may be tempted by AirDroid.
Google Voice is still around, for now
If all you're looking for is synced message conversations, and you're ok with changing your number, then you may want to go with Google Voice
The service has been around a while, and operates under the concept that you can use one phone number for all your calls and messaging across multiple devices. The service lives in Hangouts, which at times is on the buggy side.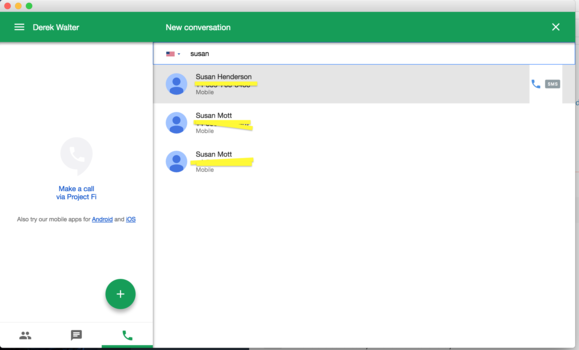 Hangouts lets you make, take calls and send messages.
But this offers you a way to give out a separate number for work or for those you don't quite trust yet with your personal number. And you're able to text and call right from the desktop, which can be a great time saver.
If there's a caveat here, it's that the future of Google Voice is a little murky. If you try out Project Fi, for example, you either have to use your Google Voice number or surrender it to the abyss. Google may be angling to kill off Voice as a standalone service and move it over to Fi, but it's hard to tell for now.
MightyText is straightforward sync and more
If it's just messaging you're after, then you may find MightyText to be the right solution. It's lightweight and lives in the browser, but it offers what you might have missed if you switched over to Android from the iPhone: the ability to write and respond to text messages from the desktop.