How to use the Finder window toolbar to save time
Tweaking the Finder toolbar can help you become more productive.
After you've made your choices, click Done. Note that, from the Show menu at the bottom left of the Customize sheet, you can choose to display Finder toolbar buttons as Icon Only, Text Only, or Icon and Text. I find Icon Only to be the most economical; it's better than just seeing the names of the buttons, and once I've remembered what each button does, it saves space by not displaying their names below the icons. Try the different options and choose what works best for you.
Quick access to apps, files, and folders
In addition to the stock toolbar buttons, you can add any file, folder, or app to the Finder toolbar. This gives you quick access to items you use often. To add an item to the toolbar, hold down the Command key and drag it to the toolbar. You can drag it to the exact position where you want to use it. When you release the Command key, the icon will stay where you want.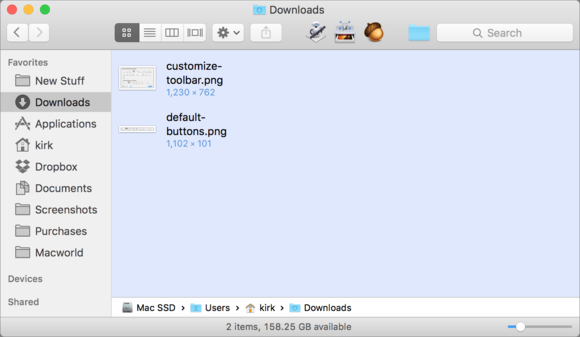 You can add files, folders, and apps to the Finder toolbar. Here's my Finder window, with two apps and an Automator workflow I use often, and a folder I want to access quickly, but don't need in the sidebar.
This is very useful if there's an app you want to access quickly: it can be quicker to drag a file to an app's icon in the toolbar than, say, dragging a file to the Dock, which is further away. Or you may have a network volume you connect to regularly; just drag its icon to the toolbar, and you'll be able to access it in one click from any window.
Take advantage of the Finder's flexible toolbar. It can save you time and make you more productive, giving you quick access to the functions you use most.