HPE offloads software arm to Micro Focus in US$8.8 billion 'spin-merge'
The move will make HPE a far more attractive target for a possible sale, one analyst said.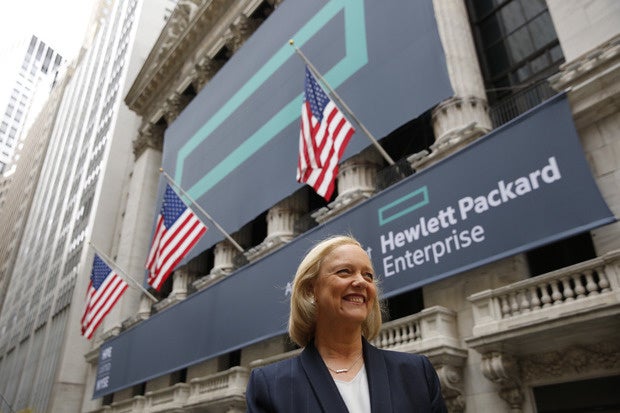 Hewlett Packard Enterprise will spin off and merge what it considers its non-core software assets with U.K.-based enterprise software firm Micro Focus in a deal worth $8.8 billion, the company said Wednesday.
Included in the bundle being offloaded are HPE's businesses focusing on application delivery management, big data, enterprise security, information management and governance, and IT operations management. Combined with Micro Focus, which acquired Attachmate in 2014 and owns Linux company SUSE, it will create one of the world's largest pure-play software companies, HPE said, with a combined sales force of about 4,000 people.
Among the terms of the deal are a $2.5 billion cash payment to HPE and 50.1 percent ownership of the new combined company by HPE shareholders. HPE declined to specify what the staffing impact would be. The combined company will be led by Kevin Loosemore, executive chairman of Micro Focus, and the deal is expected to close by the second half of HPE's fiscal year 2017.
"With today's announcement, we are taking another important step in achieving the vision of creating a faster-growing, higher-margin, stronger cash flow company well positioned for our customers and for the future," said Meg Whitman, HPE's president and CEO, in a statement.
HPE's strategy for the future is to focus on hybrid IT, said Ric Lewis, senior vice president for the software-defined and cloud group at HPE, in an interview on Wednesday.
Accordingly, it recently formed three core business groups within HPE's Enterprise Group division: One focusing on software-defined and cloud technologies, one focused on data center infrastructure, and one focused on edge technologies and the internet of things. It is retaining the software efforts that are central to its hybrid IT focus, Lewis said, including the CloudSystem brand, HPE OneView, Helion OpenStack, and its software-defined storage and networking products.
"We really see our growth opportunity around hybrid IT," he explained. "The whole world is talking about the public cloud growing, but not that many people are noticing that the private cloud is growing at double-digit rates as well. That's a huge opportunity for us."
HPE is also in the process of "doubling down to deliver a new stack of modern, multi-cloud infrastructure-as-a-service software," he added, "building on IaaS things today like OpenStack, but expanding to the Dockers, the Mesospheres and the Turbonomics of the world."
Customers of both HPE and Micro Focus will benefit from the move, Lewis said, through accelerated delivery, increased agility and lower costs.
HPE has had something of a bumpy ride since its split from HP's PC and printer group last year, so honing its focus could be a good thing for its future.
"I'm actually relieved HPE is getting back to what everyone knows they do well, and that's infrastructure and platforms," said Patrick Moorhead, president and principal analyst with Moor Insights & Strategy.