IBM: In 5 years, Watson A.I. will be behind your every decision
Watson technology will touch hundreds of millions of people by the end of this year, CEO Rometty says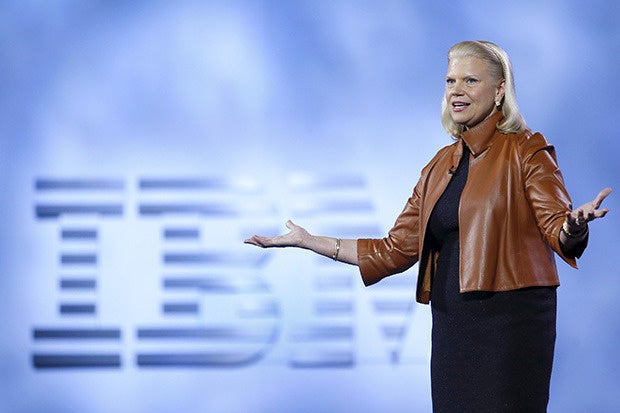 LAS VEGAS -- In the next five years, every important decision, whether it's business or personal, will be made with the assistance of IBM Watson. That's the vision of IBM president and CEO Ginni Rometty, in a keynote speech at IBM's World of Watson conference Wednesday.
Watson, the company's artificial intelligence-fueled system, is working in fields like health care, finance, entertainment and retail, connecting businesses more easily with their customers, making sense of big data and helping doctors find treatments for cancer patients.
The Watson system is set to transform how businesses function and how people live their lives. "Our goal is augmenting intelligence," Rometty said. "It is man and machine. This is all about extending your expertise. A teacher. A doctor. A lawyer. It doesn't matter what you do. We will extend it."
IBM's conference this week, which the company said drew 17,000 attendees, explored how companies, including retailers, educators, human resources departments and financial institutions, amon others, can use Watson.
"The challenge IBM has right now is to define the marketplace," said Jeff Kagan, an independent industry analyst, who attended the conference. "Ten years from now, will IBM be the leader? Watson is the leader today but that's easy… If they want to be a leader, they need to create the marketplace and the expectations."
The A.I. market is young and malleable and Watson is the biggest name, pulling in users like General Motors, GlaxoSmithKline, Staples, Teva Pharmaceuticals, the American Cancer Society and the Cleveland Clinic.
"Every industry starts with a blank slate," he added. "This is the blank slate. IBM is in a position right now to create a base everyone can build on. Some company has to create the base."
Watson technology will touch hundreds of millions of people by the end of this year alone, IBM's CEO said.
And in many cases, its user may not know it.
Watson may be embedded in Staples' new Easy Button smart device or 1-800-Flowers.com's new digital gift concierge or GM's new OnStar Go service.
Mary Barra, chairman and CEO of General Motors, took the stage Wednesday with Rometty to talk about the company's partnership with IBM to bring a cognitive element to its OnStar mobile platform.
OnStar, which has been around for about 20 years, provides in-vehicle communications, security, navigation, remote diagnostics and hands-free calling.
With Watson working behind the scenes on OnStar Go, drivers could get help avoiding traffic when they're low on gas, have a cup of coffee ordered and paid for before they get to their favorite café and get a reminder to get off the highway two exits early to make it easier to stop at the pharmacy after work.