Intel courts mobile app developers
Developing mobile apps that work on both iPhones and Androids isn't easy – or cheap. And given the shortage of developers that continues to plague IT, a framework that allows app shops to repurpose code from one platform to the next promises to save both time and money. That's what Intel is promising.
MOE is a commitment to a language for reuse – in this case Android Java code and a commitment by the development team to both a framework and the Android Studio tool chain. Like Xamarin leverages enterprise Microsoft C# developer skills, and React Native leverages the huge base of Javascript developers, MOE leverages Android Java developers and J2EE developers.
GitHub's ranking of languages based on the volume of code stored in its repository clearly explain Facebook's choice of Javascript (ranked No. 1) and Intel's choice of Java (ranked No. 2) as the cross-platform language.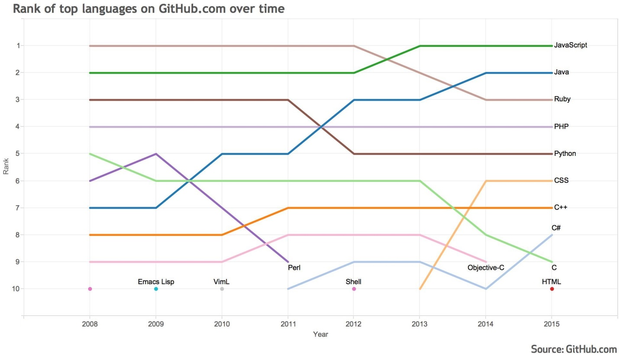 GitHub
More native apps, better user experiences
Asked about how to make the tradeoffs between native and single mobile app strategies, Gartner's Wong says, "We advise our clients that where the highest fidelity is desired for flagship apps, typically customer-facing apps, we recommend native development. However, there are many other app use cases [usually non-customer facing] that can be effectively addressed with cross platform mobile app development platforms (MADPs), and increasingly low code or no code rapid mobile app development (RMAD) tools."
The use cases for MOE differ from a MADP like Apache Cordova. Developers build one WORE app for both iOS and Android with Apache Cordova drawing on widely available programming skills, eliminating the need for redundant Android and iOS platform specialists. But abstracting the native Android and iOS UIs from direct access by developers comes with a price. User interaction with a Cordova apps isn't as natural, responsive or immersive.
MOE developers expend more programming effort to build native UIs. Compared to Cordova, it's less efficient, because MOE does not reuse the UI elements but delivers a native UI experience that's often vitally important to attracting downloads of flagship apps and retaining loyal users that app marketing specialist Fiksu pegs at $2.47 per user in acquisition costs. The potential MOE programming manpower savings would support an increase in the number of native mobile apps produced compared to building redundant iOS and Android apps.
MOE doesn't offer 100 percent reuse. But compared to a full rewrite for native performance, the 60 percent reuse claimed by McVeigh can't be overlooked, especially by firms with a big Android development staff. Added advantages might be realized by firms wanting to repurpose enterprise Java developers to mobile as business priorities shift from the web to mobile.
Previous Page 1 2 3