It's a rare developer who relies on patronage
Marco Arment's switch to donations to encourage development of his Overcast podcasting app led to lots of discussion. Is he alone in this pursuit?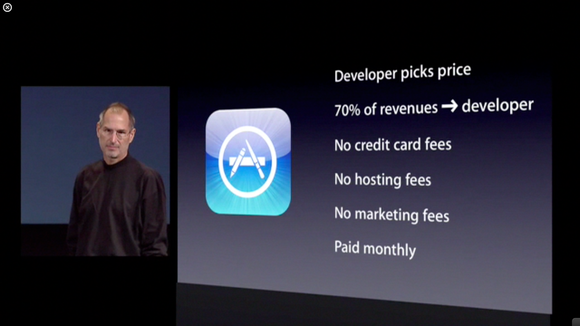 When the App Store launched, apps could be paid or free. It's gotten a little more complicated since then...
But Apple's App Stores don't allow for trials. Products can be free to obtain, or free with the potential for in-app purchases. But neither App Store lets developers offer trials to their users; Apple both prohibits as policy and rejects in practice software that's structured that way. There's an exception for "non-consumable" subscriptions, like a magazine, where a customer receives a permanently available digital asset as the result of a recurring fee, and developers can opt to allow a few days or longer (depending on the subscription duration) of receipt of those assets. This lets a publication give away issues, for instance.
As a result, developers have Hobbesian choices. They can opt—as Arment did in the original Overcast—to provide a minimal viable product that serves as a calling card but has sufficient functionality to pass Apple's App Store review process; or they can charge the full fee, hoping people learn through marketing, reviews, and word of mouth that it's a good deal. (This is easiest for products extending across platforms, where customers can use a different version or a web-app version before deciding to buy the native app.)
This approach used to be called shareware, but donationware seems to come with even less of a strict obligation to pay. As Bob Metcalfe wrote about shareware in InfoWorld in 1993, referring to the creators of a book and floppy disks of shareware, "If you don't pay for shareware that you use, Prevost and Terrell call you a 'no-good, ungrateful, double-crossing Free Rider,' and I agree."


Sequel Pro is free and open source, but the developers encourage donations if you use it a lot.
That's typically not the language used by modern developers. More common is the view of Abhi Beckert, one of the developers of Sequel Pro, a free OS X app that offers graphical access to MySQL databases. "We have received many thousands of donations over the years (I don't know exactly how many) without really trying, which is awesome," he writes from Australia. The donation page is similarly low key: "If you use Sequel Pro on a daily basis or it is an essential tool in your developer belt, consider donating 10 or 20 dollars to the Sequel Pro developers."
Beckert says that recent 1.1 update had over 100,000 downloads within about two weeks, and he says just 5,000 people donating a modest amount would allow he and his colleagues to fund a full-time developer. "But the amount of money donated is a weird middle ground," he notes, "an order of magnitude more than we can spend on things like servers and commercial development software, but not enough to pay somebody to work on the project."
Previous Page 1 2 3 4 5 Next Page