It's a rare developer who relies on patronage
Marco Arment's switch to donations to encourage development of his Overcast podcasting app led to lots of discussion. Is he alone in this pursuit?
Some of his revenue, however, comes from high-value commission work, where he aims to make enough money that the time devoted (like two weeks) results in a twofold to fourfold increase in time he can then devote to his patronage-related projects. Apple even encouraged Smith to port Spaceteam to tvOS, and that version should be released shortly.
Smith may be unique. I can't find another Apple-ecosystem developer or set of developers able to support themselves almost entirely in this fashion. Games and apps have funded through crowdfunding of various kinds, but free software and a quasi-salary to make it seems sui generis.
Freemium but not as a premium
Dave Nanian of Shirt Pocket, makers of SuperDuper, has a more common experience. Nanian has been supporting himself through his own work since about 1983 with a few brief stints in jobs. He handles the front end and user interface for SuperDuper, while his business partner Bruce Lacey handles the core development. Nanian makes his living from the product.
SuperDuper clones Mac drives, and without paying for the $28 upgrade, works forever for manual, full copies. Nanian says, "If you're doing something about data and data integrity, you couldn't do it in a way that did trials," since that would disabled the ability to recover data.
But Nanian says the idea of a pure shareware model never seemed appealing, because over his time as a developer, he hadn't seen it work reliably and sustainably. He sells SuperDuper directly, not through the App Store, because, he says, "When you do stuff in the App Stores, you are in essence working for Apple, but Apple isn't helping you."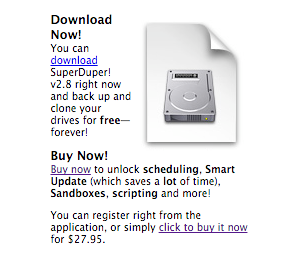 SuperDuper takes a freemium model outside of Apple's Mac App Store. It's free forever, but users who pay $28 get some extra features.
Nanian says this isn't out of malice or neglect on Apple's part, but because the stores are chock full of apps. He explains, in a ball room full of balls, you hope the kid finds the ball—"It's fun for everybody but the ball." Nanian says Shirt Pocket has never raised prices nor charged for an upgrade, yet despite that, earnings continue relatively steady, although at a very slight downward pace from years past.
"I've been pretty happy with the way it's been earning this whole time," he says, and so he plans no changes in the immediate future. If revenue drops further, he might suggest to people who bought the upgrade more than three years ago they could kick a few dollars to Shirt Pocket.
"We've never begged for donations. That could be a time to see how that could work," he says.
Previous Page 1 2 3 4 5 Next Page