Keep iTunes metadata when you re-rip, and deauthorize missing Macs
In a grab-bag installment of The iTunes Guy, I look at how to ensure that tags and metadata get retained when you re-rip CDs, how to deauthorize computers for iTunes Store accounts, and how to change the name of your iTunes library for Home Sharing.
This is quite simple. Select all the movies you want to change in iTunes, press Command-I, and click the Options tab in the Multiple Item Information window that appears. In the Media Kind pop-up menu, choose Home Video. iTunes will then move all those files to the Home Videos library.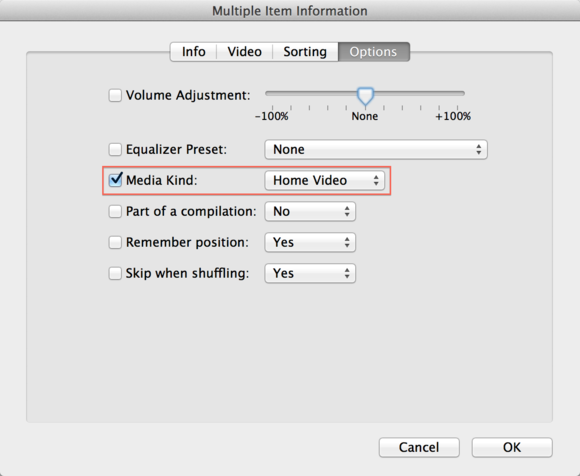 The Media Kind menu lets you change which library a file is stored in.
Q: How do I deauthorize an iTunes account on a computer I no longer have? My old laptop doesn't work, so I junked it, but I forgot to deauthorize my iTunes account on it.
Go to the main screen of the iTunes Store, and click Account under the Quick Links header. Enter your password where it's requested, and you'll be taken to your Account Information page. Look in the Apple ID Summary section at the top for Computer Authorizations. You'll see how many computers are authorized. There's no way to deauthorize a specific computer here, but you can click Deauthorize All to remove all of them. This is especially helpful if you sold or gave away your older computer and are worried someone might--inadvertently or otherwise--access your iTunes Store account. (Note that this option is available for you to use only once per year, and you won't see it at all if you have fewer than two computers authorized.) Or if you've used fewer than the five total authorizations on your account, you can always just do nothing for the time being.
Once you deauthorize everything, you'll need to reauthorize each computer that you currently use. You can do so in iTunes by going to Store > Authorize This Computer or by attempting to play any iTunes content with digital rights management (DRM)--such as videos or older iTunes music files. iTunes will then display a dialog box asking you to enter the password for that item's Apple ID.
Q: I recently used Migration Assistant to move my files to my new iMac. I've noticed that while everything works great, including Home Sharing, the name that pops up on my devices while I'm accessing Home Sharing is still that of my old Mac, even though the one doing the sharing is definitely the new one. The hard drives have completely different names. Obviously, this is a minor concern, since everything is still working perfectly, but it's driving me crazy trying to find the little preference I didn't switch. Any ideas on how I can change this?
Yes, although the setting isn't where might expect. If you open iTunes' preferences (iTunes > Preferences), and click the Sharing tab, you'll probably expect to see the name of your library there (in fact, I think it used to be there, in earlier versions of iTunes). But it's not there.