Luminar review: A serious challenger to the reigning pro apps for photo editing mastery
New Mac app shines as a standalone or plug-in to major competitors Photoshop and Lightroom.
Luminar 1.1.0, Macphun's brand new flagship photo app, is the company's answer to Photoshop and Lightroom for photographers. It's a universal, non-destructive general photo editor that sits atop an impressive assortment of specialized Mac-only image apps and plug-ins like Creative Kit 2016, Aurora HDR 2017, and others.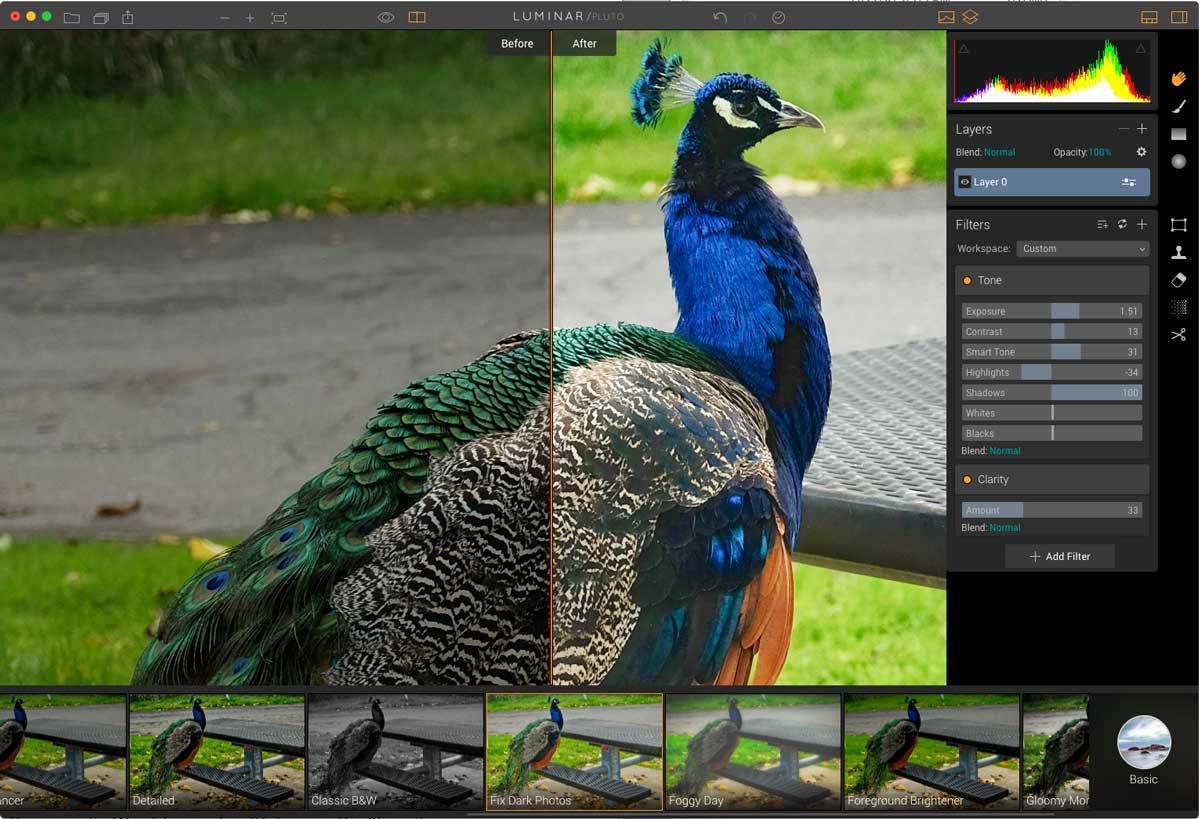 Multiple user-friendly controls make Luminar easy to learn.
With Luminar, Macphun now aims to conquer the complexity of general image editing for amateur and pro users who capture photos with a variety of devices from DSLRs and mirrorless cameras to high-end smartphones. Whereas photographers who rely on Photoshop quickly encounter its famously steep learning curve, Luminar provides the tools for similar editing results with a much easier, Apple Photos-style effort. Its concentration on photo editing and styling, combined with a massive number of slider-based tools, is designed for all skill levels, giving users plenty of headroom, flexibility, and variety. It's a pro app in consumer disguise.
The app's interface is flexible, intuitive, and simple. Want to see only the editing controls? Click to hide the preset panel. Want to work with layers, the Transform tool, or brush in edits using a mask? Click to hide the side panel. One click hides or shows the histogram, a before/after view, masks, zoom, history, and undo-redo. The app provides advanced editing with layers, blending modes, compositing features, and raw white balance correction features, and offers Touch Bar support.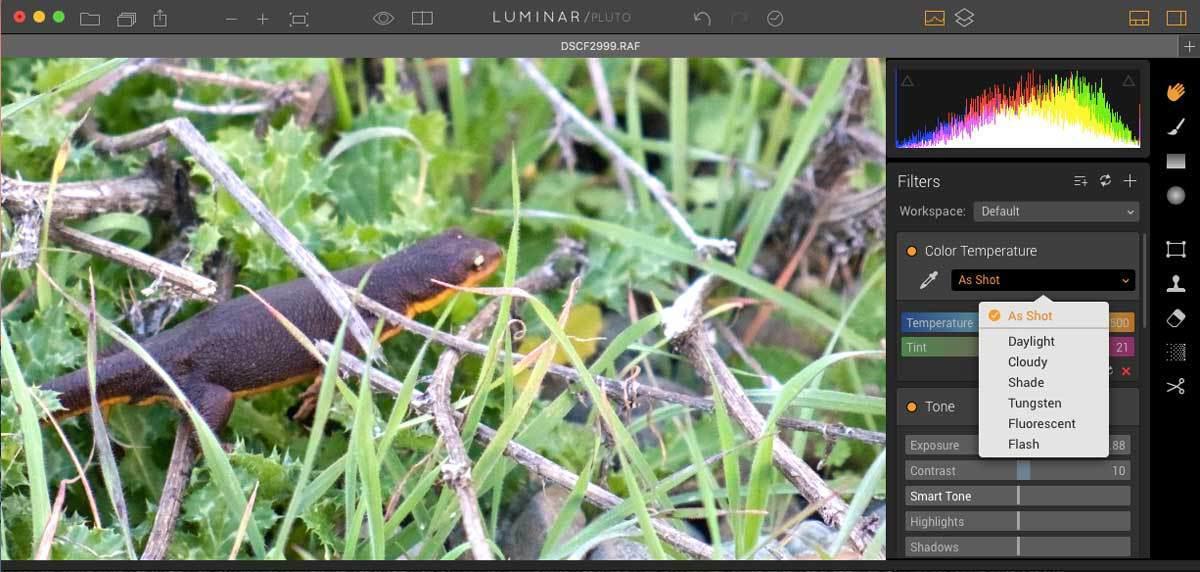 You can correct white balance on raw files.
Workspaces
Luminar's Workspace is a flexible feature that offers customized photo editing tools for broad photo categories like Universal, Black & White, Landscape, Portrait, and Street, with a set of discrete controls for each. You can create your own customized Workspace from scratch with tools you use most frequently, or just tweak one of the app's pre-defined Workspaces and rename it.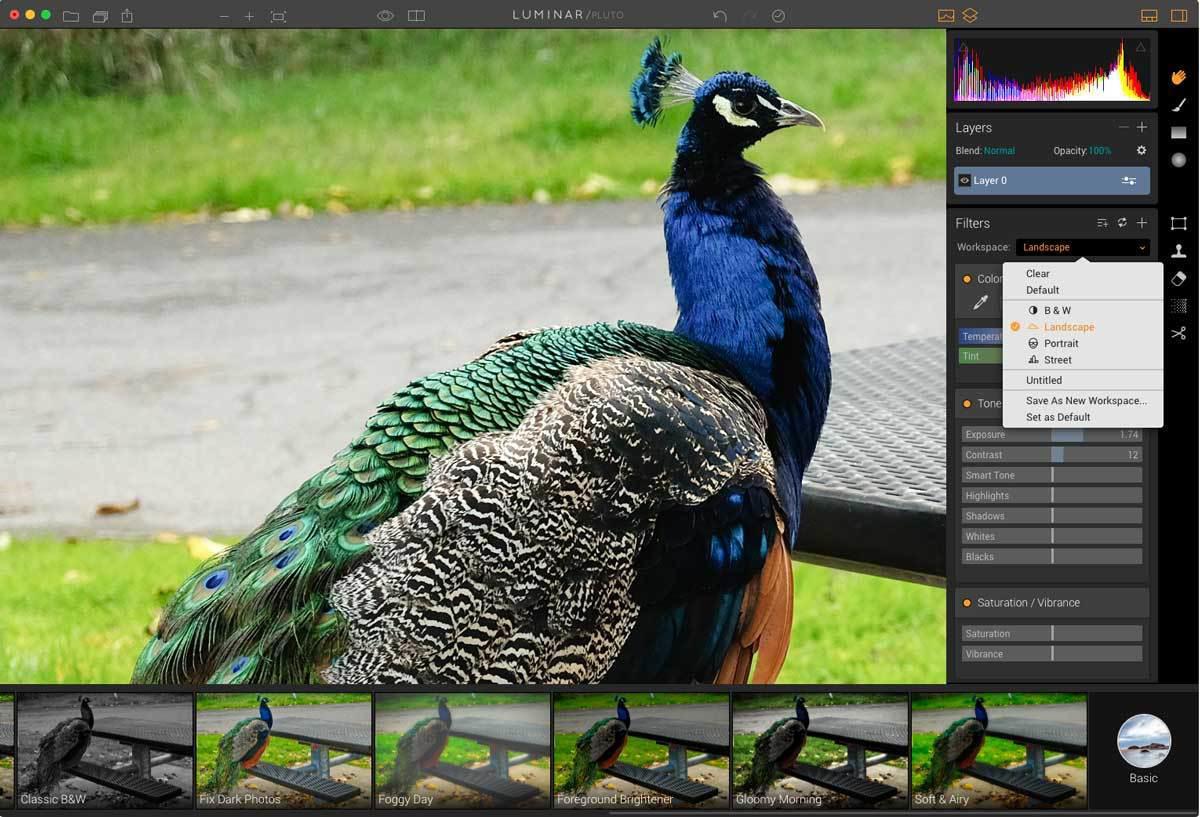 Default Workspaces let you choose controls according to the type of image you're editing.
This is my favorite way to work because I almost always want to enhance clarity, structure, dehaze outdoor shots, and remove color cast, and I want all my favorite tools available immediately rather than picking through the software's default idea of what I want to do with a landscape or a portrait.
As you add filters to your Workspace, the software gives a brief description of the effect it will have on your photos. The beauty of the Workspace is that it lets you assemble all your favorite tools in one place, but you can still use each one at your discretion, or not at all.